Monitors check physiological status of emergency responders.
Press Release Summary: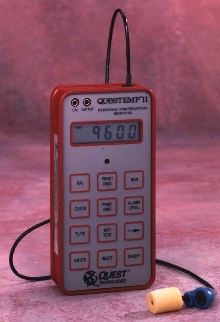 Questemp II continuously monitors respondent's temperature via ear, and alarms when specified limits are exceeded. Model 3800 continuously monitors heart rate and correlated core temperature via chest-worn sensor, alarming when certain combinations of heart rate, temperature and exposure times are factored with age and type of protective clothing worn. Both record time history of measured values and alarm conditions, and are certified intrinsically safe.
---
Original Press Release:

Unknown Threats Create Hidden Risk for Respondents to Nuclear, Biological and Chemical Attacks


Personal Protective Equipment (PPE) is headed toward much wider use as scores of emergency response, law enforcement and military defense personnel prepare for the threat of nuclear,
biological and chemical attacks. Exceptional levels of PPE are required when training for and responding to emergency situations where unknown hazards exist. Personnel wearing the PPE find themselves in a microenvironment much different from the ambient environment. The risk of heat-induced illness, injury or death is created by the added weight of the PPE combined with the elevated temperature and lack of evaporative cooling inside. This risk is hidden because it is not detectable by traditional WBGT heat stress monitors. WBGT meters measure the ambient atmosphere but the microenvironment underneath the PPE is radically different. This risk demands a method to understand the physiological heat strain of the actual respondent wearing the PPE.

Quest Technologies offers two devices to monitor the personal physiological status of the emergency responder. One device (Questemp II) continuously monitors the respondent's tempera-
ture via the ear and alarms when specified limits are exceeded. The second device (3800) continuously monitors the respondent's heart rate and correlated core temperature via a chest-worn sensor, alarming when certain combinations of heart rate, temperature and exposure times are factored with age and clothing type worn. Both devices are suitable for training and field use. Each record a time history of the measured values and any alarm conditions and are certified intrinsically safe.

Quest Technologies is one of the most widely recognized and respected manufacturers worldwide for safety and industrial hygiene instrumentation and software. The company's expertise
is the measurement, analysis and reporting of noise, indoor air quality, vibration, heat stress and toxic/combustible gases in the workplace and the environment. Quest products provide a unique "system solution" centered on their QuestSuite® software for charting, reporting, analysis and storage of exposure data. Quest Technologies' Quality Management System is independently registered to ISO 9000 standards and their calibration laboratory is independently accredited to ISO/IEC Guide 25.

For more information on Quest products and services, call 1-800-245-0779 within the U.S., 1-262-567-9157 outside the U.S., or visit the Quest Technologies web site at http://quest-tech-
nologies.com

1060 Corporate Center Drive Oconomowoc, WI 53066 800-245-0779 262-567-9157 FAX: 262-567-4047 www.quest-technologies.com

More from Agricultural & Farming Products