1195 Park Ave.
Emeryville, CA 94608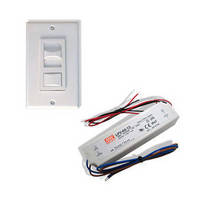 Working in conjunction with 60 W 12 V indoor/outdoor driver, Reign 12 V LED Dimmer Switch offers smooth, 0-100% dimming range and does not flicker, hum, or jump. Unit is available in full, rocker, and button slide styles and fits into standard wall light boxes. To increase output, PWM Injector connects to new power supply and output circuit of dimmer, driving additional 60 W. PWM signal is...
Read More »
Web-based tutorials, on-call experts and an interactive community forum give Elemental LED an educational edge over the competition. San Francisco, CA - Elemental LED, a San Francisco based LED lighting company, offers superior products, resources and support for under cabinet LED lighting installations. By implementing a multi-faceted customer support program that include online, phone and...
Read More »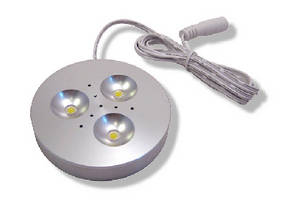 Incorporating constant-current driver chip, LED Puck Lights dim smoothly from 0-100% using pulse width modulation. Units deliver 200 lumens of brightness while consuming 3.6 W of electricity, and are available in warm white from 2,800-3,500 K or neutral white from 5,500-6,000 K. Housed in aluminum, puck lights offer directional lighting, suitable for accent, counter, or under-cabinet applications.
Read More »
Research shows that LED lights exhibit characteristics that are better for overall health and safety than those of fluorescent, incandescent and halogen fixtures. San Francisco, CA - September 3, 2010 -It turns out that LED lighting is not only easier on your wallet and better for the planet; it's also healthier. When considering general lighting features that may affect health, like flicker,...
Read More »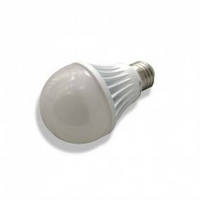 Offering direct replacement for both incandescent bulbs and CFLs, TESS 6 W LED Light Bulb is outfitted with 5 Cree LED chips, which combine InGaN materials with proprietary GoSIC® substrates for optimal performance. Warm white option emits 300 lumens of brightness and golden-colored glow, while cool white model emits 400 lumens and crystal-white colored light. Both RoHS-compliant bulbs last...
Read More »
Apollo Controller can control DMX devices, such as wall washers and PAR cans, or drive 3 channels of PWM to control LED lighting fixtures, such as strips and bars. Dual-mode solution comes with software that lets user visually design custom lighting scenes on computer, load them into Apollo, and play them back through lighting fixtures without computer. Functionality accommodates needs of...
Read More »
Saint Mary's Medical Center in Huntington, West Virginia just got a makeover, thanks to Elemental LEDs. When the hospital asked their landscape design company, Oasis Landscaping, to create a permanaent up lighting installation for the front of the building, Oasis owner Edison Adkins immediately called Elemental LED. I chose Elemental because I was impressed with their knowledge and willingness to...
Read More »
Wall Washers are plug-and-play, freestanding fixtures that can be placed in almost any location. When aimed upward, they send columns of white or color light up face of vertical surface. LED lights last up to 50,000 hr, and RGB versions can be programmed to emit any color as well as to switch colors. Other effects, such as flashing and fading, are also possible. Able to work in indoors and...
Read More »
Retailers find that brighter, warmer lighting enhances product packaging and increases impulse buys. Elemental LED, a San Francisco based LED lighting company, offers retrofitting products that allow retailers to easily switch to LED lighting in their stores, showrooms and warehouses. Replacing fluorescent lights with LEDs has been shown to benefit business in several ways: LED tube lights...
Read More »