LED Strip Lighting offers adjustable color temp, brightness.
Press Release Summary: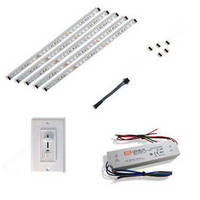 White Balance LED Strip Lighting system lets users choose exact shade of white and brightness of their lighting. Specifically, white balance system lets users choose white LED lighting color temperatures from 8,000 to 2,700 K. Light incorporates white bulbs in 3 shades: cool, neutral and warm, while controller lets users smoothly fade between different color temperatures. With toggle in right position, user can choose any brightness from 0%-100% over PWM dimming range.
---
Original Press Release:

Elemental LED Introduces the White Balance Color Changing LED Strip Light



Consumers can Smoothly Change Color Temperature from Cool to Warm White with an LED Dimmer Switch and these Innovative LED Strip Lights

San Francisco, CA - Elemental LED, a San Francisco Bay Area-based LED lighting company, has transformed LED Strip lighting with the newly released White Balance LED Strip Lighting system. The White Balance Strip Light and White Balance Wall Controller allow users to choose the exact shade of white and brightness of their lighting. Creating the perfect LED lighting scheme with energy-efficient LED lighting is now much easier.

"Elemental is proud to be among the first companies in the world to offer a white balance control system to the public," says Elemental LED Lead Engineer Joseph Martin.

The new white balance system lets users choose their white LED lighting color temperature from anywhere between a cool white 8000k and a warm white 2700k. The unique design of the White Balance LED Strip Light incorporates white bulbs in three shades: cool, neutral and warm. The White Balance Wall Controller lets users smoothly and easily fade between the different color temperatures of the strip light. The wall controller is similar to an LED dimmer switch. A toggle switch lets the user change between dimming and color changing modes. With the toggle in the right position, the user can choose any level of brightness in the 0% to 100% PWM dimming range; with the toggle in the left position, the user can fine-tune the exact color temperature needed.

The White Balance Strip and Controller both run on 12V DC and can be powered by either a 12V hard-wired driver or a plug-in 12V adapter. The Wall Controller fits into a standard light switch wall outlet and has two lead wires to connect to 12V DC power.

"Like many of our custom, in-house products, the White Balance LED Strip has been designed by Elemental LED for a high color rendering index (CRI) and high efficiency. We designed the controller to mate perfectly with the strip light for smooth fading in different applications," says Martin. The Wall Controller can be adapted for RGB color-changing LED applications because, like RGB LED strip lights, the White Balance LED Strip Light utilizes three channels.

Elemental LED is offering the White Balance LED Strip Light, Wall Controller and custom connectors in several discounted kits. With the White Balance Expandable Kit, customers can choose how many feet of strip light they need and receive the first foot for free. The White Balance 5-foot, 10-foot and 15-foot Kits also come with a 12V driver at no additional cost.

To learn more about the White Balance LED Strip Light and Wall Controller and about the energy saving and environmental benefits of LEDs, please visit www.elementalled.com.

Contact:
Charlotte Dick, Marketing Manager
charlotte.dick@elementalled.com
877 564 5051

More from Fluid & Gas Flow Equipment