Cattron Group International
58 W. Shenango St.
Sharpsville, PA 16150-1198
Digital Event Recorder monitors and captures electrical analog, digital, and pneumatic input data that can be downloaded to computer through wired or wireless serial link for review and analysis. It provides 220 recording channels for 96 hr and synchronizes information recorded by radio control system with data from locomotive. All information is generated in one integrated report, useful in...
Read More »
QC is a standardized, interchangeable, portable control system designed to interface with locomotives equipped with American Association of Railroads (AAR) standard Multiple Unit (MU) connections. It comprises portable, radio-remote, operator control unit with toggle, paddle, or combination; and 2 portable, locomotive-mounted, NEMA 4, watertight enclosures: one for locomotive computer unit and...
Read More »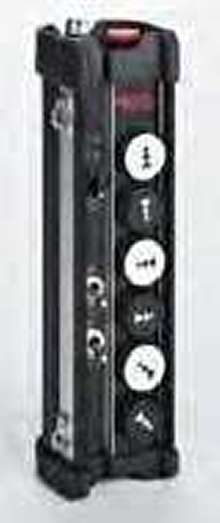 Pendant Station controllers combine ergonomic design with remote control technology for no-cord operation. With metal housing, handheld units are suited for heavy-duty industrial environments. Controllers are available for use with company's portable, radio-remote control systems to provide message security, quick response time, and safe, accurate control of overhead cranes and industrial...
Read More »