Radio Remote Control is constructed with full metal jacket.
Press Release Summary: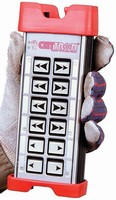 Operating on 902-928 MHz band for North/South America, MKU Radio Remote Control system includes Metal Keypad-U operator control unit and industrial-grade, mil-spec digital components. Removable contactless RFID key, Transkey, is programmed with all necessary system configuration. Other features include parameter selection, power-on self-diagnostics, and keypad audible feedback. System employs sealed silicon elastomer switch types and clear, epoxy-coated, dual-step pushbuttons.
---
Original Press Release:

Cattron Group International's New Controller Features "Full Metal Jacket" Durability



Cattron Group International, a leading global manufacturer of remote control products and professional services for the industrial, mining, commercial mobile and railroad markets, announced today it has started producing its MKU Radio Remote Control system which includes the Metal Keypad-U (MKU) Operator Control Unit ("OCU" - Transmitter/controller) for industrial applications. Emphasizing its "Full Metal Jacket" construction, the company claims the MKU is the first radio remote control product to combine the robust design requirements of the North American market with European CE safety approvals.

The MKU controller employs sophisticated industrial grade mil-spec digital components protected by a thick-walled, epoxy-coated extruded aluminum case. The ends of the housing are protected by rubberized metal plated shock-absorbing end caps. The MKU controller weighs 1.4 lbs. (634 grams) and also features switch types that are a sealed silicon elastomer product that is dust, water, oil, and acid resistant, with a tactile feel and clear epoxy coated dual-step pushbuttons. Additional features include five bi-color LED's for system status, low battery warning and parameter selection, power-on self-diagnostics, keypad audible feedback and low battery indication. A removable contact-less RFID key, "Transkey", is programmed with all necessary system configuration.

The hardware and software structure of the MKU System meets the structural design required to acquire the Safety Integrity Level (SIL) 3 of EN61508 and Category 3 of the European Safety Norm EN954-1. The MKU also meets the standards of the US Federal Communications Commission (FCC) and Industry Canada (IC) non-licensed operations.

The system operates on unlicensed 902-928 MHZ band for North and South America with other frequency bands being available in Europe and Asia. The Cattron® brand MKU OCU and its companion, or Machine Control Unit ("MCU" - Receiver/decoder), are designed as dual-channel systems that incorporate advanced microcomputer electronics and surface-mount technology. The MKU is first of a number of products designed on a core platform where all controllers and receiver/decoders (MCU's) can work together under one platform.

Celebrating over 60 years of radio frequency (RF) and industrial remote control experience, Cattron Group companies have a total installed base of over 125,000 remote control systems throughout the world. Its products are suitable for all industries including railroads, construction, shipyards, mining, aerospace, steel, military, agriculture, shipping, material handling, utility vehicles and many more.

The Cattron Group International subsidiary companies have operations in the USA, Canada, UK, South Africa, Brazil and Europe, and are supported by an extensive sales and distribution network throughout North and South America, Europe, Asia, Africa and Australia. World Headquarters are located at 58 West Shenango St., Sharpsville, PA, 16150, USA. More information on the company and its products is available by calling +1 (724) 962-3571 or on the Internet at www.cattrongroup.com .

Related