869 S. Knowles Ave.
New Richmond, WI 54017
Intended for schools, small shops, warehouses, and office buildings, Conventional Fire Panel 500 Series uses single LCD screen to display status of all zones. User interface is color-coded, and LEDs light up to indicate active zones, problems, and status information. False alarms are minimized by requiring fire to be detected in at least 2 zones or by 2 detectors in 1 zone. With separate history...
Read More »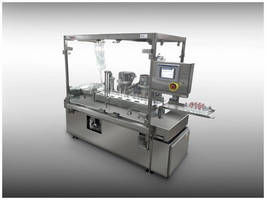 FLT vial filler features 100% checkweigh and reject option and processes up to 30 vials/min. Walking beam transport design allows for small footprint, and quick changeover of vial diameter requires only 3 guideparts. Stoppering or capping of 13 and 20 mm finish is realized with single vibratory bowl, requiring only change of tracks, and it handles containers ranging from 2-100 mm. Peristaltic or...
Read More »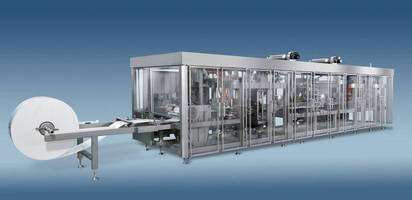 o Minimal machine height, easy accessibility and hygienic design o Multiple cup heights without tool changeover o Adjustment of labeling sizes by changing the label reel At the 2012 Anuga FoodTec in Cologne, Germany, Bosch Packaging Technology presents a thermoforming clean-fill (TFC) machine. Based on 40 years of experience, Bosch developed a machine featuring operational height, easy...
Read More »
With 6 m-² footprint, SurePOUCH clean-fill machine series (SPC) roll-fed vertical form, fill, and seal (VFFS) machines can produce 4 different pouch formats. EZPouch, EZGable, and EZSquare pouches, with filling volumes from 100 mm to 5 L, offer flexible applications for retail. For food service, EZPillow pouches hold up to 20 L. Machine works with viscous liquids up to 25,000 cps as well as...
Read More »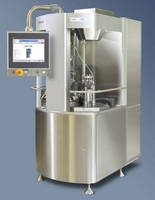 Bosch underscores its position as full-range supplier for the pharmaceutical industry Processing and packaging solutions from one source Entire syringe filling line on show at booth 2227 Stock optimization with new service concept New acquisitions extend pharma portfolio At Interphex 2012 in New York City, Bosch Packaging Technology underscores its position as a full-range provider of process and...
Read More »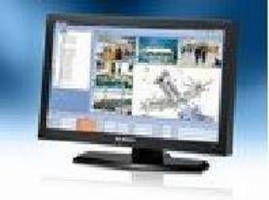 BVMS version v3.0 supports up to 2,000 camera inputs and 100 workstations and combines IP cameras, encoders, DVRs and matrix switches in single user interface. All live and archived video data can be viewed at any location on single or multiple work stations simultaneously. Playback and export is possible if central server is not reachable or connection has low bandwidth, and IP cameras can...
Read More »
Central control unit (CCU) allows wired and wireless delegate units to be integrated in one system, facilitating extension of DCN Next Generation systems to meet changing needs by adding DCN wireless discussion units. Up to 245 wired and 245 wireless delegate units can be controlled by one CCU, which also offers Ethernet connection to control PC for bridging extended distances without converters....
Read More »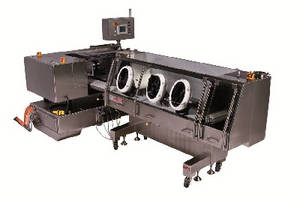 Featuring modular, customizable design, Pharmaceutical Melt Extrusion and Calendering Line includes Pharma Extruder WCF 0040PH, which continually processes substrate with active ingredients through melting, mixing, kneading, aerating, tempering, and forming stages. Mass is extruded to Pharma Calender BPK 0050, ensuring accurate forming of tablets by using dual rollers with forming cavities....
Read More »
Intended for chocolate manufacturers, Single-Wrap Die-Fold Package has airtight hermetic seals to maintain product freshness while protecting against insects and moisture. It also preserves original aromas and flavors while denying penetration by external scents. For symmetrical side and longitudinal seals, package is produced by Starpac 600 HL machine, which uses folding box to create all folds...
Read More »