1 New Orchard Rd.
Armonk, NY 10504-1722
Share:
With IBM Coremetrics Web Analytics and Digital Marketing Optimization Suite, organizations can determine effectiveness of new products and services and fine tune marketing campaigns. By understanding customers' buying preferences and patterns across all digital media, including websites, social media networks, mobile phones, and tablets, companies can develop and deliver most relevant customer...
Read More »
Designed to consolidate workloads from hundreds of x86 servers, zEnterprise 114 (z114) is powered by up to 14 MPUs. Up to 10 of these can be configured as specialty engines designed to integrate new Java, XML, and Linux applications and technologies with existing workloads as well optimize system resources. To help simplify data centers, z114 can manage workloads across mainframe, POWER7, and...
Read More »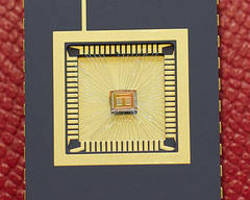 - Reliable multi-bit phase-change memory technology demonstrated - Scientists achieved a 100 times performance increase in write latency compared to flash memory - Enables a paradigm shift for enterprise IT and storage systems, including cloud computing by 2016 ZURICH - For the first time, scientists at IBM Research (NYSE: IBM) have demonstrated that a relatively new memory technology, known as...
Read More »
Used to uncover patterns and trends from large data sets while meeting compliance mandates, IBM Netezza High Capacity Appliance can analyze up to 10 petabytes of data within minutes. Systems are based on IBM BladeCenter technology and capable of being up and running in 24 hr. Appliance aids in sifting through banking and mobile phone transactions, insurance claims, EMRs, and sales information,...
Read More »
Using IBM Connections v3.01, organizations can track and trace data on-the-fly throughout organization. Program uses microblogs, wikis, communities, and activities to collaborate with clients, partners, and employees. With compliance capabilities, users can monitor, track, and pull out relevant data around conversations, posts, and file uploads in real-time. Electronic trail of online...
Read More »
Access to Flexible Computing, Industry Optimized Clouds to Drive Innovation in Engineering, Manufacturing, Analytics and More ARMONK, N.Y. - IBM today announced new high performance computing (HPC) cloud offerings to help clients tackle advanced scientific and technical computing workloads like analytics, simulations for product development, climate research and life sciences. Today, many...
Read More »
ARMONK, N.Y. - IBM (NYSE: IBM) today announced that it will provide the microprocessors that will serve as the heart of the new Wii U(TM) system from Nintendo. Unveiled today at the E3 trade show, Nintendo plans for its new console to hit store shelves in 2012. The all-new, Power-based microprocessor will pack some of IBM's most advanced technology into an energy-saving silicon package that will...
Read More »
As building block for future wireless devices, IC fabricated from wafer-size graphene is designed for wireless communications. Broadband frequency mixer, operating up to 10 GHz, consists of graphene transistor and one pair of inductors integrated on silicon carbide wafer. Analog IC operates as broadband frequency mixer, producing output signals with mixed frequencies (sum and difference) of input...
Read More »
Recent Acquisitions Deliver Key Benefits that lead to Smarter Communications DUBLIN -- Today at the TMF Management World 2011 conference, IBM (NYSE: IBM) announced new software and services designed to help communications service providers (CSPs) deliver new and innovative services to subscribers. With the world's carriers facing high market saturation, a sharp decline in fixed wireline services...
Read More »