Aprima Medical Software, Inc
3330 Keller Springs Suite 201
Carrollton, TX 75006
Share:
ATLANTA, May 21 -- NIIT Technologies Limited, the global IT Solutions organization, sharpened its focus on the US Small/Medium Enterprise market by releasing its QuickStart High-Tech Solution on SAP ERP. QuickStart was developed for use by midsized enterprises and subsidiaries of larger companies with a revenue range of $100 to $1500 million dollars. Aligning ourselves with SAP's vision for the...
Read More »
Annapolis, Maryland, USA, May 21, 2007-ARINC Incorporated today announced a new, slimmer Ku-band antenna design for its SKYLinkSM satellite broadband service-the first satellite broadband communications service for business jets. The new slimmer antenna package is currently undergoing DO 160E testing which is expected to be complete in June. The narrow base design now fits a wider range of...
Read More »
NORTH HAVEN, CT (May 22, 2007) - NEU, a leading international engineering polymer compounder, has introduced a new series of medical grade resins with features and benefits not found in currently used radio opaque polymers. Specifically the new grades include TPUs, nylons (polyamids), olefins and other resins. Medical device applications include, but are not limited to, products that require...
Read More »
Waltham, MA - May 22, 2007 - ETRAGE LLC, The Engineering Automation Company, today announced the release of PSI for Windchill-® and Pro/INTRALINK-® 8 for batch plotting and PDF creation. Etrage has extended the functionality that is available in PSI for Pro/INTRALINK 3.X to Windchill and INTRALINK 8. PSI for Windchill and Pro/INTRALINK 8 currently automates batch plotting and PDF creation...
Read More »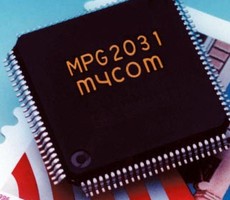 Nyden Details a Proactive Role in Designing a New Generation of Large-Scale Integration (LSI) Chips for Optimal Speed, Power and Resolution in All Design Areas of Next-Generation Semiconductor Equipment. San Jose, CA--Nyden Corporation and its parent company, Mycom, Incorporated, announced today that, supplemental to being the pioneering design leaders of advanced, high-torque and nanospeed...
Read More »
NICE, France, May 22 // -- Amdocs (NYSE:DOX), the leading provider of customer experience systems, today announced a collaboration with Cisco(R) to deliver a jointly defined Operation Support System (OSS) -to-Network solution for enhanced service management for Next Generation Network (NGN) and Internet Protocol (IP) services. The joint offering will support integrated planning, service...
Read More »
WATERBURY, CT - September 2006 - TPR2 , Thermal Product Research, announces it's latest new fire safety product for the Building industries... NON-FLAMMABLE barrier coatings for interior AND exterior wall assemblies. This revolutionary new coating is non toxic, zero VOC and can be brushed, sprayed, or rolled on to a host of substrates to provide ASTM E119 approved fire barrier and more...
Read More »
WATERBURY, CT - Dec 2006 - TPR2, Thermal Product Research, announces it's latest new fire safety product for professional motorsports...a FIRE EXTINGUISHING, FIRE BARRIER, FLEXIBLE WATERPROOF COATING. AFESTM (short for Automatic Fire Extinguishing System) Flexible Fireshell(TM) Coating is the first of its kind. This new product from TPR2 aggressively reacts to extinguish flame, heat and the...
Read More »
BEVERLY HILLS, CA - May 21, 2007 - Advanced Quality Logistics (AQL), an emerging retail 3PL company, implemented Motek's Windows-based Priya® Warehouse Management System (WMS) in a record 30 days, enabling the company to aggressively court and win business while processing complicated, high volume orders with 99.9% accuracy. In the 15 years I've been implementing warehouse management systems at...
Read More »