Aprima Medical Software, Inc
3330 Keller Springs Suite 201
Carrollton, TX 75006
Share:
November 14, 2007 - PolyMirae Company Ltd, a joint venture of Basell and Daelim and leading Asian polypropylene manufacturer and marketer, has introduced a new pelletised high fluidity polypropylene resin which can address the increasing demands of customers in meltblown textile applications. The new resin, Moplen HP461X, is produced utilising PolyMirae's state-of-the-art manufacturing technology...
Read More »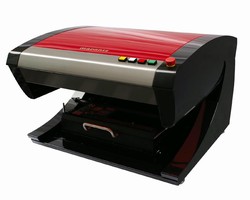 Marantz Business Electronics previewed its iSpector 350 model at last week's Productronica in Munich. iSpector is part of the company's brand new AOI platform supporting comprehensive inspection of PCBs, including SMT and THT components, reflow and wave solder joints, and solder paste. Featuring proven Marantz Synthetic Imaging, this new platform delivers the industry's best defect balance ratio...
Read More »
The team at OK International are currently celebrating a successful performance at the Global Technology Awards where the APR-5000-DZ Advanced Package Rework System topped the hand soldering, repair and rework category. The prestigious award was presented to the electronics assembly specialist at a ceremony held on November 13th at Productronica 2007. Sponsored by Global SMT & Packaging Magazine,...
Read More »
FM22L16 voted Leading Product in Digital IC and Digital Logic category COLORADO SPRINGS, CO - November 21, 2007 - Ramtron International Corporation (Nasdaq: RMTR), a leading developer and supplier of nonvolatile ferroelectric random access memory (F-RAM) and integrated semiconductor products, today announced that it has received the Leading Product accolade in this year's prestigious EDN...
Read More »
As a longstanding manufacturer of composite medical devices, Composiflex is responding to rising market demand for patient positioning systems that are compatible with MRI-based diagnostic procedures. Traditionally, patient positioning composite products, such as table overlays, oncology breast boards, and head and neck boards, have been operable only with CT scan, X-ray systems, and oncology...
Read More »
22 November 2007 - Aker Kvaerner has signed a frame agreement with Woodside Petroleum Ltd to become the Australian oil and gas giant's preferred supplier of steel tube umbilicals. The contract could be worth between NOK 150 - 200 million annually. The frame agreement is awarded for a three year period with optional periods of one + one year and has the potential to support Woodside Petroleum Ltd...
Read More »
MIRTEC Corp., the leading global supplier of automated optical and high-resolution x-ray inspection systems recently introduced wide range of next-generation AOI machines for electronics manufacturing industry. During last few years, company has done lot of efforts to develop the next generation AOI machines with a special emphasis on product quality and wider defect coverage to guarantee...
Read More »
The project involves a retrofit of the plant's current RPV stud tensioner design - The Biach QD-H model - by adding the pumping system sub-assembly thereby converting the tensioner to Biach's SCT - self contained tensioner. Browns Ferry will now gain valuable refuel floor space through the elimination of a central pumping station, realize safer working conditions through elimination of all the...
Read More »
Cogeneration Plant to Provide Power and Heat to Bioethanol Factory JENBACH, AUSTRIA - November 21, 2007 - GE Energy will supply two containerized cogeneration power plants including its ecomaginationSM-certified Jenbacher biogas engines that will operate at an existing bioethanol facility in the city of Liszkowo, 250 kilometers northwest of Poland's capital of Warsaw (Warszawa). The biogas...
Read More »