Aprima Medical Software, Inc
3330 Keller Springs Suite 201
Carrollton, TX 75006
Share:
- New Toolkit Provides Co-Registration of 3D Optical Images with Other Imaging Modalities to Better Understand Disease Progression and Therapeutic Response - HOPKINTON, Mass. -- Caliper Life Sciences, Inc. (NASDAQ: CALP), a leading provider of tools and services for drug discovery, life sciences research and molecular diagnostics, today introduced software and accessory items to enable the direct...
Read More »
Eindhoven, the Netherlands, -- JTAG Technologies will be showcasing latest developments and products at Autotestcon Orlando. IEEE AUTOTESTCON is the United States' largest conference focused on automatic test systems for U.S. military systems, and has been held annually since 1965. The conference, whose general theme is The Support Systems Technology Conference, is held in varying cities around...
Read More »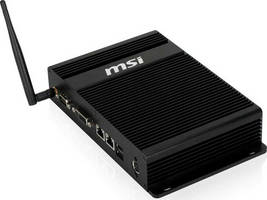 Taipei, Taiwan Micro-Star international (MSI) Industrial Platform Computing (IPC) has announced that they will participate in two exhibitions, Equipmag2010 in France and Enada Rome 2010 in Italy, to unveil a serious of the latest industrial products that offers integrated system and customized service. Equipmag 2010 Equipmag 2010, September 21-23, is the global solutions dedicated to...
Read More »
Tigerpaw provides comprehensive remote IT management services for LabTech RMM BELLEVUE, Neb. - Tigerpaw Software, Inc., developer of the most comprehensive business building software for technology providers, today announced its advanced managed services integration with LabTech, a powerful Remote Monitoring Management (RMM) solution developed by system administrators for system administrators....
Read More »
AQS meets high domestic and international demand with the addition of 15 new small environmental chambers ATLANTA, -- Air Quality Sciences, Inc. (AQS) is home to the largest commercial environmental chamber laboratory offering more than 60 state-of-the-art chambers ranging from room-sized to small. Higher international demand for low-pollutant emissions testing and third party certification for...
Read More »
Bluetooth® and Gestural Control Enables Intuitive Content Selection, Game Play and QWERTY Navigation for Connected TVs, Set-Top Boxes and Blu-ray Disc® Players IRVINE, Calif., -- Broadcom Corporation (NASDAQ: BRCM), a global leader in semiconductors for wired and wireless communications, today announced that it has partnered with Philips Home Control, a world leader in advanced wireless input...
Read More »
AMSTERDAM - (IBC2010, Stand 7.G20) - Harris Corporation (NYSE:HRS), an international communications and information technology company, announced it is adding significant product introductions to its NEXIO-® video server portfolio, designed to help broadcasters accelerate time-to-air, reduce costs and streamline workflows in both playout and production environments. Powerful, Space-Saving...
Read More »
Albany, NY, USA: L-Tron Corporation will be exhibiting at the Government Solutions Center from September 22-23, 2010 as part of the GTC East's New York Digital Government Summit in Albany, NY. L-Tron will be displaying innovative government solutions, which include barcode and RFID scanners used for reading, tracking and documenting information on applications such as citations, accident and...
Read More »
Expands into Europe with Top Selling Picture Porter 35, Photo Safe II, & Photo Book Los Angeles, CA - Digital Foci www.digitalfoci.com, an award-winning leading provider of digital photography accessories for consumers and professional photographers, announced today that it will be expanding its top-selling line of portable digital photo storage and digital photo albums into the European market...
Read More »