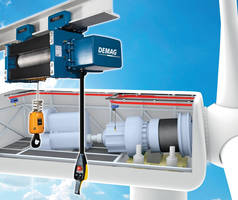 • Demag training for maintenance personnel in wind turbines • High safety standards thanks to trained, certified service technicians • 120 maintenance technicians already trained for practical requirements DÃ-¼sseldorf, Germany - Terex Material Handling offers product solutions tailored to meet the needs of wind turbine maintenance. The Demag hoists and crane systems support maintenance...
Read More »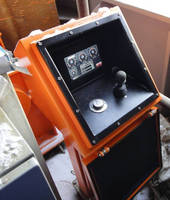 SALT LAKE CITY, UTAH. - Adria Winch, a leader in designing and manufacturing of hydraulic, electrical and pneumatic deck equipment for vessels, has chosen the QTERM-A7 human machine interface (HMI) with iX software by Beijer Electronics to control five oceanographic winches located on an open deck of a Russian research icebreaker ship. The QTERM-A7 was chosen because of its ability to operate in...
Read More »
With lift capacity ranging from 25–60 tons, Prof Ti Hoists with emergency lowering device are equipped with separate air tank, and two additional buttons incorporated into hand controller. Reservoir is automatically maintained at full working air pressure during normal hoist operations, ensuring availability of positive emergency braking system when required. Device becomes operable in event of...
Read More »
Brighton, MI - LadderTech announces Sheetz, Inc. of Altoona, PA has selected the LadderPort Ladder Receiver (Patent Pending) and Cranky Portable Winch (Patent Pending) system for installation on their convenience store locations. The LadderPort Ladder Receiver will help keep their maintenance technicians and outside contractor's safe and injury free when roof access is required. Michele Oras,...
Read More »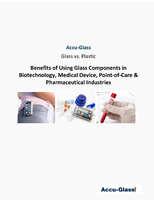 This white paper from Accu-Glass outlines the various properties that make glass such an attractive option for a diverse range of medical-related applications.
Read More »
Vacon Plc - AC drives manufacturer Vacon will deliver liquid-cooled AC drives with a total power of 2.7 MW for active heave-compensated winches onboard a Norwegian-built IMR ship. The delivery will take place in March 2012. Vacon and Norwegian winch manufacturer AXTech signed a contract for 17 liquid-cooled 690 V AC drives to be used for one of the largest electrified active heave-compensated...
Read More »
With rated first layer line pull of 10,000, HDG-350 meets SAE J706 standard and matches line speed - 32 fpm at 15 gpm - of similar-capacity planetary winch. Product is available with blocked clutch and air shift and also incorporates automatic, oil cooled disc brake. Integrated worm gear set is optimized for efficiency, and mid mounted product is available with manual or air-operated free spool...
Read More »
Patriot 9500 UT and Profile 9500 UT, when used with Ramsey wireless remote, can be engaged and operated from up to 50 ft away. Along with 9500 lb rated line pull (single line) and gear reduction ratio of 138:1, these 93 lb products feature sealed, 5.5 hp wound motor that delivers no-load line speed of 33 fpm. Other features include sealed drum, sealed gear assembly, and 105 ft of 5/16 in....
Read More »
ATLAS II worm gear power winch has 2-ton load capacity for handling small- and medium-sized loads and is suited for industrial lifting applications. Compact, lightweight winch features cast aluminum body, internal load holding mechanical brake, and machine-cut gearing that operates in enclosed oil bath to minimize wear. Lifting handles are built into frame, so lifting straps can be attached to...
Read More »
Aker Solutions has set up a new manufacturing facility in South Korea for the production of Pusnes deck machinery(TM). Aker Solutions has among several major contracts signed a contract for the delivery of Pusnes deck machinery(TM) for the prestigious Pieter Schelte"-project, the world's largest platform installation, decommissioning and pipe-lay vessel. The total order intake of Pusnes deck...
Read More »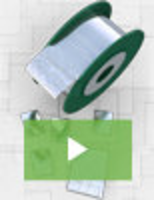 Indium Corporation has developed a new twist on traditional solder by developing a composite with a reinforced matrix internal structure. The result is a solder with increased strength and reliability. Check out this video to learn more about the mechanics behind the groundbreaking technology.
Read More »