Port-A-Cool® JetStream 1600 portable evaporative cooling unit is suited for mechanic's bays, work shops, small work areas, and patios. It includes louvers to direct airflow, built-in cord wrap, and water fill options utilizing built-in reservoir or garden hose. Using tap water and 115 V of electricity, device lowers temperatures by 15-25°F. Its 1-piece housing eliminates leaks and...
Read More »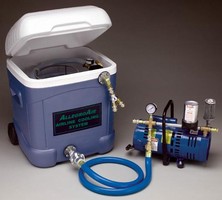 Weighing only 28 lb without ice and featuring rugged 70 quart MaxCold Igloo Cooler with durable wheels and locking telescope pull handle, AllegroAir (LP) Airline Cooling System is capable of reducing air temperature from 180°F to as low as 50°F. Suitable for jobs in the field, compact unit can be used with 1-, 2-, or 3-worker Ambient Air Pump. Inlet air is connected to cooling system...
Read More »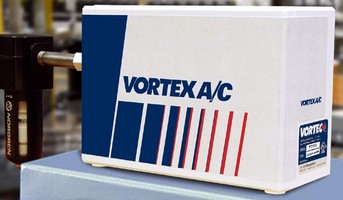 Only requiring compressed air supply for operation, Vortex A/C(TM) installs on electrical control panels in environments up to 175°F to maintain enclosure temperatures within 80 to 90°F range. UL-listed cooling system, rated at 5,000 BTUH, features dual vortex tube cooling units that each have mechanical thermostat. First stage offers 2,500 BTUH cooling capacity and, if needed, second...
Read More »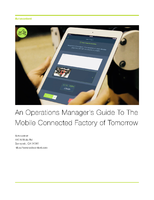 This white paper provides an overview of mobile technology for managing your manufacturing facility, while also discussing the advantages of being an early adopter.
Read More »
With summer temperatures steadily climbing into triple digits, the potential for heat stroke becomes a real concern for those exposed to high temperature environments. High Temperature Environments" are generally referred to as those over 87˚F for light work, over 82°F for moderate work and over 78°F for heavy work. This amount requires 25% rest time for every 75% of work time,...
Read More »
Designed to cool large spaces, Office Pro 63 3-Phase system is suited for heat-sensitive servers and telecom equipment rooms. It features programmable digital controller for automatic operation after-hours and on weekends, and condensate pump kit that supports continuous operation. Equipped with 2-speed fan to control airflow, system offers 208, 230, and 460 V for 5 ton cooling units.
Read More »
High Temperature Vortex Tubes convert ordinary supply of compressed air into one hot stream and one cold stream for spot cooling applications in environments up to 392°F. Compressed air is sole source of power, eliminating use of chemicals and refrigerants, and cold air temperatures are adjustable from -50°F to ambient. With cooling capacities of 135-10,200 BTU/hr, stainless steel...
Read More »
Vortec's recently released Vortex A/CTM(TM) cooling system for electrical enclosures has now been approved for both side as well as top mounting on NEMA Type 4 and 4X rated electrical cabinets. The super quiet Vortex A/C is the all-new alternative to expensive air conditioners for below-ambient cooling. Just as quiet as an air conditioner (about 62 dBA), the UL-listed Vortex A/C noise level is...
Read More »
Producing stream of 20°F air, High Power Cold Gun is suitable for continuous use without possibility of freezing up. Stainless steel vortex tube converts ordinary supply of compressed air into cold air, while flexible ball and socket hose directs cold air to point where heat is generated. Eliminating filtration, clean-up, and disposal of liquid coolants, gun is suited for laser cutting,...
Read More »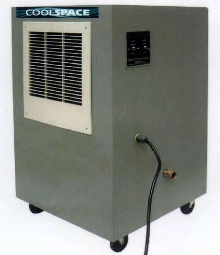 Designed for cooling individual workers as well as spot cooling in open spaces, COOLSPACE Jr. utilizes 3 in. thick cross corrugated cooling pads and 2-speed centrifugal blower. It provides up to 20° cooler air for hours with 12 gal reservoir. Stand-alone unit can also be connected to garden hose for automatic water level maintenance. Mounted on 4 casters, portable unit has recessed,...
Read More »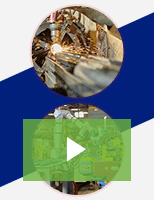 J&D Tube Benders' laser cutting and machining services provide accurate and complex features on tubes of all shapes and sizes. Check out the video to learn more!
Read More »