The latest tools help hospitals increase data transparency for quality improvement. CHICAGO, April 6 -- Siemens Healthcare (www.siemens.com/healthcare) will focus on knowledge-driven solutions and quality of care with Soarian® Quality Measures, enabled by the REMIND(TM) Platform, at the Healthcare Information and Management Systems Society (HIMSS) 2009 Annual Conference and Exhibition in...
Read More »
MADISON, Wisc., (April 6, 2009) - Thermo Fisher Scientific Inc., the world leader in serving science, has combined the Thermo Scientific Antaris family of FT-NIR analyzers and SIEMENS SIPAT(TM) software platform to provide a comprehensive solution for advanced process understanding and continuous control and improvement in drug development and manufacture. The integration is a natural extension...
Read More »
Philadelphia, Penn. (April 6, 2009)- Thermo Fisher Scientific Inc., the world leader in serving science, will showcase its new informatics offerings on booth #B1-C11, hall 6.1 at ACHEMA 2009, Frankfurt am Main, Germany, May 11 - 15 2009. For the first time in Europe, the company introduces Thermo Scientific Connects, a new program aimed at bridging the gap between laboratory generated data and...
Read More »
Emerson PlantWeb® architecture and engineering services selected for project that doubles output of methanol to meet the strong market requirement AUSTIN, TEXAS (April 7, 2009) - Shanghai Coking & Chemical Corporation and Emerson Process Management announced that Emerson had been selected to provide its PlantWeb® digital plant architecture with FOUNDATION(TM) fieldbus technology for...
Read More »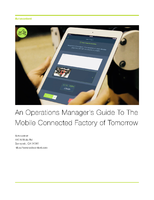 This white paper provides an overview of mobile technology for managing your manufacturing facility, while also discussing the advantages of being an early adopter.
Read More »
GAINESVILLE, Fla., April 6 -- Main Street Softworks, Inc. announces new features and enhancements to the company's flagship Monetra(R) Version 7 payment server software product, including secure store and forward functionality, support for Flexible Spending Account transactions and the Bill Me Later(R) alternative payment method, and other enhancements. The new features and enhancements will be...
Read More »
New York-Presbyterian uses Microsoft Amalga Unified Intelligence System and Microsoft HealthVault to create connected, patient-centric health system. REDMOND, Wash., April 6 / / - Microsoft Corp. today announced Microsoft Amalga Unified Intelligence System (UIS) 2009, the next generation of the enterprise data aggregation platform that enables hospitals to unlock patient data stored in a wide...
Read More »
Proven, comprehensive technology offers secure data sharing, referring physician connectivity and clinical decision support tools CHICAGO, April 6 -- Shared Health(R), Inc. of Chattanooga, Tenn., one of the nation's largest public/private Health Information Exchanges (HIEs), announced today from the Healthcare Information and Management Systems Society (HIMSS) Annual Conference & Exhibition that...
Read More »
Entire Sage MAS ERP Line Now Available on the Applianz System Irvine, Calif. - March 17, 2009 - Sage North America announced today that the entire line of Sage MAS ERP (enterprise resource planning) solutions is now available on the patented Applianz turnkey system. Sage MAS on the Applianz system gives small and midsized businesses (SMBs) a plug-n-play ERP solution that dramatically reduces TCO...
Read More »
Link-Assistant.Com is proud to announce a fresh major update of its SEO SpyGlass tool. SEO SpyGlass is an advanced yet easy-to-useSEO software for competition research and backlink analysis. If you want to skyrocket your website or blog to the top 10 of Google, Yahoo! and MSN this is your tool of trade. SEO SpyGlass swiftly gathers loads of data on your competitors' link building strategies,...
Read More »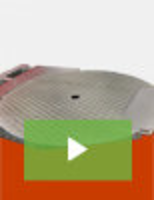 Are you in need of safer, more efficient transportation equipment? Do you feel like your delivery equipment could really use an upgrade? Check out this video, and learn about Halo Ramp Company's patented safety platforms, and how they help you bypass your trickiest delivery challenges.
Read More »