NEMA 9 dust ignition proof, dual rated enclosures encompass Model RS-D and Model RSB-D pull cord or cable operated stop control, Model TA-D belt alignment control, Model DB-100D belt rip detector, Model PCL/R/D-D pull cord, Model CR-D level control and plugged chute detector, and Model FS-D dry bulk material flow control series. UL listed and CSA certified units can be placed outdoors in...
Read More »
Two key initiatives in this transformation are smart manufacturing/Industry 4.0 and the emphasis on increased collaboration between stakeholders.
Read More »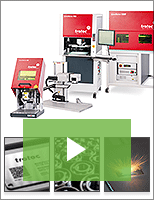 Trotec's laser marking solutions provide your company with configurable workstations and intuitive, customizable software. Check out our video to learn more.
Read More »