Safety and Security Enclosures
Lift Table Safety Enclosures help prevent personal injury.
Press Release Summary: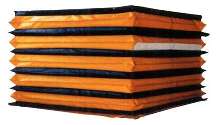 Custom-made from Vinyl Coated Polyester, accordion-style safety enclosures provide physical barrier to protect lifting mechanism from contaminants and extend life of unit. Products are available for Lift, Tilt, and Lift and Tilt tables in 1-, 2-, 3-, and 4-sided enclosures. Its 3 in. wide material is welded together at each corner before sewing for 90° corners and uniformity. Rods are inserted into pockets every second convolution for strength.
---
Original Press Release:
Hennig, Inc. Announces their Lift Table Safety Enclosures

The accordion-style Lift Table Enclosures are custom made to provide a physical barrier to help prevent personal injury, protects the lifting mechanism from contaminants minimizing downtime, maintenance costs and extends the life of the unit.

One, two, three and four sided enclosures are available for Lift, Tilt, and Lift and Tilt tables. The enclosures are constructed from premium quality Vinyl Coated Polyester. The 3" wide material is welded together at each corner before sewing, ensuring perfect 90-degree corners and uniformity. Rods are inserted into pockets every second convolution to maintain stability and add strength. On Four-sided units, a mesh breathing fabric is sewn into opposite sides on a convolution near the top, to allow for the influx and expulsion of air as the enclosure cycles up and down. Extension straps are sewn on the inside of each unit to ease pressure on the stitching by creating uniform extension at each convolution. Galvanized mounting flatbar is included, if required, for installation into collars.

Maintenance straps, zippers, hook and loop mounting, hi- temp and other specialty fabrics, and almost any convolution width are other options available.

Hennig, Inc.

9900 North Alpine Road

Machesney Park, IL 61115

815-636-9900

www.hennig-inc.com

Questions or inquiries can be directed to:

Kris Drennen

Imicci Design Group

124 North Water Street

Rockford, IL 61103

815-316-0716

kris@imicci.com
More from Software