HyperIP for Cloud enables enterprises to move or replicate data using Ethernet and TCP/IP networks. Program is suited for backup, recovery, and data replication applications, supporting long-distance data transfers at up to 800 Mbps. Its Recovery on Demand feature opens unlimited bandwidth to optimize data recovery operations. Offered as hardware appliance or VMware ESX software version, it can...
Read More »
Using Computrace® for Netbooks, customers can monitor, track, and manage all computers from single web interface. Computrace software Agent regularly contacts Absolute Monitoring Center, sending location and IT asset management information to portal. Customers log in to Center to access that information, manage IT asset population, and run reports to identify changes in asset information....
Read More »
Philadelphia, Pennsylvania - April 2, 2009 - Ixilix announced today that it now offers low-cost disk-to-disk (D2D) backups as a service for new customers. The service had previously been restricted to Ixilix hosting and managed infrastructure clients. "Many companies are still using tape for backups. Anyone with a tape library more than 2½ years old can benefit from switching to a managed...
Read More »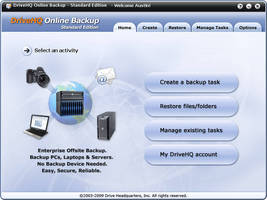 Able to be run in real-time or at scheduled times, DriveHQ Online Backup v4.5.332 delivers secure and reliable, offsite backup for small businesses. It can be setup on desktops, laptops, or servers in as little as one minute and runs in background thereafter. Data is stored at DriveHQ's colocation facility, via SSL/HTTPS data transfer, with secure data encryption. Other features include support...
Read More »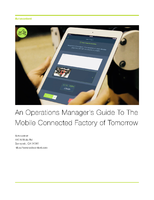 This white paper provides an overview of mobile technology for managing your manufacturing facility, while also discussing the advantages of being an early adopter.
Read More »
Targeting SMBs and available for all versions of ReadyNAS products, ReadyNAS Vault automates backup and eliminates local onsite management. Service copies data to storage facility and recovers information from any web browser and any Internet location. Providing 128-bit SSL transfer connections and 256-bit AES encryption, service allows backup jobs, individual ReadyNAS systems, and recovery tasks...
Read More »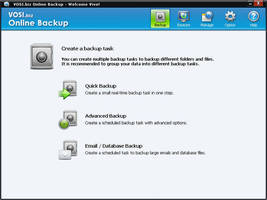 Storing data at colocation facility, VOSI.biz Online Backup v1.2 delivers secure, encrypted offsite backup for business data. It can backup data in real-time or at scheduled times for PCs, laptops, and servers, even if user is not logged onto computer. Service allows SSL/HTTPS data transfer and also provides status notification email once backup task finishes or error occurs.
Read More »
With Mark II recovery system, XeCovery On-Site Service can address simultaneous recovery of xenon from multiple process reactors. Mark II can process volumes of xenon in excess of 100,000 liters/year at customer site using single equipment package. It is equipped with stream selection logic that enables Air Products to acquire xenon only from processes that employ xenon. To address needs of users...
Read More »
Available for laptops and personal computers, BackUPMAX Secure Online Backup for Windows and Mac adds theft protection features to standard file backup/restore functionality. Remote Security Suite, available only in Personal Edition, lets users erase sensitive data remotely from lost or stolen computers. Users can also view pictures/movies taken of thief via computer's camera, listen to sounds in...
Read More »
Tailored for businesses using Mac desktops, notebooks, and servers, MozyPro® for Mac offers automatic and secure online backup of critical business information to protect against hard drive failure, computer loss/theft, and natural disasters. Businesses can manage backup and restore processes for all their Mac computers, as well as any Windows-based PCs, from Web-based administration...
Read More »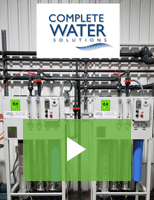 Complete Water Solutions provides full installation tailored to your water treatment needs. Check out the video to learn more.
Read More »