Available with red/green built-in LEDs that can be combined to produce amber, KP02 series of short-stroke LED switches feature total travel of .138 in., pretravel of .091 in., and overtravel of 0.47 in. Compact design has height of .906 in. from PC board to top of cap. Offered in 17.4, 15, and 12 mm sizes, switches have actuation force of 1.6 N and are rated at 100 mA max @ 12 Vdc. Units have...
Read More »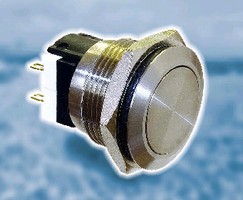 Rated at 3 A, 125 Vac, Model MPD031 has double pole changeover switching and is available in low profile, prominent, and domed profiles. Barrel and button are CNC turned from high-grade stainless steel to withstand abuse, and front panel is sealed to IP66. With same panel cut-out and 19 mm diameter, Model MPD031 offers drop-in replacement for single-pole Model MP0031.
Read More »
Designed for use with PICO-GUARD safeguarding system, PICO-GUARD(TM) Emergency Stop Button works in conjunction with PICO-GUARD Controller and other optical elements in personnel safety and equipment protection applications. Models are available with fiber entry/exit from same or opposite sides of IP65-rated, impact-resistant enclosure. Switch features bright red push-to-stop, twist-to-release...
Read More »
Illuminated via built-in, multi-element LEDs and available in single- or bi-color options, UB2 series can be supplied in SPDT or DPDT models with momentary or alternate action circuit configurations. Bi-color LED switch selections can be specified with alternating standard legend configurations, and alternate action circuit models have latch-down mechanism that indicates circuit status. Snap-in...
Read More »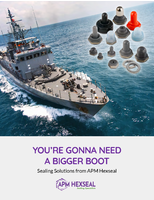 Learn about sealing boot types and applications in marine environments.
Read More »
Available for flush- and surface-mount installations, multipurpose Stopper® Station features Mini Weather Stopper® polycarbonate protective cover, with weather gaskets, that protects button from damage or harsh environments. Pneumatic mushroom button, available in 5 colors, opens or closes circuit and has timed delay (2-60 sec) before reset. Designed to prevent accidental activation,...
Read More »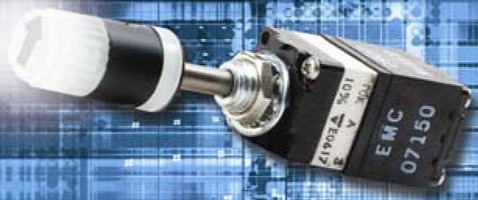 Featuring momentary edge lit knob and momentary tactile feel pushbutton switch, SW44511 offers rotary and push-on functionality for optimal operational control. All-in-one unit, suited for limited-space applications, has Â-½ in. square body and requires less than 1 in. of space behind panel. Rated at 5-24 Vdc, 1-50 mA resistive, SPST switch enables user to specify value so that, when...
Read More »
Measuring 4.5 x 6.8 x 2 mm, Model TL3200 features dual LEDs with single or dual color options available in red, green, or yellow. Unit has contact rating of 50 mA at 12 Vdc, contact resistance of 500 mW, and dielectric strength of 250 Vac. Operating from -25 to +85°C, switch offers life expectancy of 30,000 cycles and is suited for telecommunications, consumer electronics, audio/visual,...
Read More »
With XN Series, maintenance technicians can install up to 20 personal padlocks, preventing unauthorized resetting of latched emergency stop switch. Units ensure NC contacts open when contact block is separated from operator. Safety Interlock Mechanism keeps contacts open when operator is locked, while Direct Opening Action ensures that even if contacts are welded, force applied on button will...
Read More »
Available in multiple LED colors, Model TL1260 has thru hole design with contact rating of 50 mA at 12 Vdc, contact resistance of 100 mW, and insulation resistance of 100 MW. It offers dielectric strength of 500 Vac, actuation force of 160 gf ±50 gf, operating temperature range of -20 to + 70°C, and travel length of 0.20, ±0.1 mm. Applications include telecommunications,...
Read More »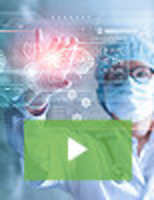 Embedded computing solutions from Dedicated Computing are designed to meet unique and specific requirements. As the preferred supplier to leading healthcare OEMs, the Dedicated Computing team of expert engineers gets your product out to the market faster while helping your company avoid costly validation and verification steps. Check out our video to learn more.
Read More »