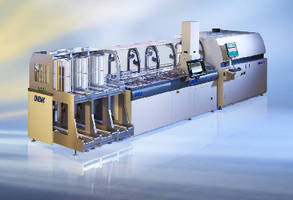 DEK Solar will be bringing its newly-introduced PV3000 metallization line to this year's AsiaSolar Energy Photovoltaic Exhibition and Forum, being held at Shanghai Mart from 30th March - 1st April. In addition to providing an opportunity for visitors to see the line in action, the exhibition will also enable attendees to find out more about the company's innovative approach to service and...
Read More »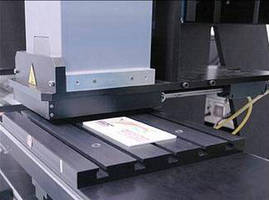 Combining digital and piezo-electric technologies, InDecs(TM) UV Single Pass and InDecs UV Flatbed printers create abrasion-resistant markings. Single-pass inkjet, rated to 50 fps, decorates products using grayscale printheads, while in-line UV curing and UV inks enable single-, spot-, or full-color decorating. Featuring scanned image application, UV flatbed printer offers limitless color...
Read More »
Measuring 64 in. wide, VersaCAMM VS-640 offers print speeds up to 248 ftÂ-²/hr in dual CMYK mode. Print head design automatically positions droplets of 7 different sizes to optimize image quality at resolutions up to 1,440 dpi. As integrated printer/cutter, VS-640 prints and automatically contour cuts images, allowing unattended operation. Offering scratch resistance, Metallic Silver ECO-SOL...
Read More »
Featuring automatic surface detection, Model MPX-90 precisely imprints text, graphics, and other data on hard surfaces including non-plated and unpolished materials. Variable data printing capabilities enable users to automatically apply unique identification numbers to each item in series. Compatible with Adobe Illustrator, CorelDRAW, and Photoshop, printer includes center vise, USB...
Read More »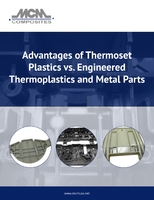 Thermosets and engineered thermoplastics are sometimes better suited to differing situations, but they do have some overlap in relevant use cases.
Read More »
Designed for workgroups and SMBs, Models B-310N and B-510DN feature front paper cassettes that hold up to 500 sheets to facilitate uninterrupted printing. Model B-310N holds letter-size paper with optional legal-size paper cassette and provides monthly duty cycle of 10,00 pages, while Model B-510DN holds letter or legal-size paper and offers monthly duty cycle of 20,000 pages. Both networkable...
Read More »
Aficio® MP C6501SP offers speeds of 60 ppm color and 65 ppm b&w, with warm up time of 70 sec, while MP C7501SP delivers 70 ppm color and 75 ppm b&w and offers warm up time 60 sec. Multifunction devices feature 150-sheet automatic document feeder with one-pass color duplex scanning, allowing users to scan both sides of document in single pass. Standard paper capacity is 3,400 sheets with...
Read More »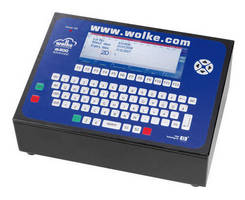 Addressing complex coding requirements in pharmaceutical, tobacco, health and beauty, and other industrial markets, Wolke m600 advanced enables high-speed, high-resolution coding of serialized data and many types of bar codes, including GS1 DataMatrix, to be compatible with track-and-trace applications. Printer uses multiprocessor architecture and can be integrated into range of process control...
Read More »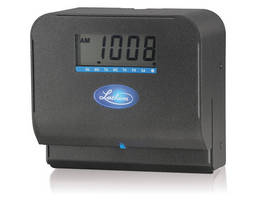 Model 800P thermal print time recorder features Tru-Align(TM) technology, which provides alignment verification as well as automatic printing when time card is inserted. Utilizing thermal technology, unit doesn't require ink ribbons, and provides quiet solution for work environment. Maintenance-free system automatically adjusts for Daylight Savings Time and maintains date, time, and user...
Read More »
Available in direct thermal and thermal transfer versions, CG Series features onboard linear and 2D barcode symbologies, including GS1 DataBar. Multi-purpose desktop units offer LAN and USB connectivity as well as Serial or IEEE 1284 Parallel port. Printers are suited for on-demand, low to mid-volume printing applications such as retail shelf and product labeling, healthcare wristband printing,...
Read More »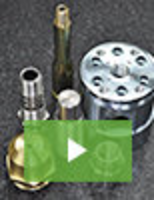 Quality, customer service, and unbeatable value are the hallmarks of Hogge Precision. Since 1989 we have built a reputation as the go-to precision machining source, servicing many demanding industries. For CNC machining and screw machining, there are few manufacturers that can match our capabilities and expertise. See our video to learn more.
Read More »