Additive Manufacturing Systems
OSAI Provides CNC Control for Fabru PlastJet 3C 3D Printers Providing High Precision, Simultaneous High-Speed Operation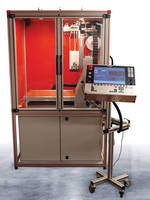 Chicopee, MA – OSAI announced that it now provides its OPENcontrol for the Fabru PlastJet 3C Model printers. These printers provide high precision, high-speed operation using three different plastic materials simultaneously.



Designed for industrial prototype applications, the PlastJet 3C operation is based on Fused Deposition Modeling (FDM) following a CAM path managed by OSAI's OPENcontrol software.



OPENcontrol's power enables 3D printing at a top speed of 450mm/s while printing three different plastic materials simultaneously. A unique feature is the flexibility of the PlastJet system to handle many different plastic materials including ABS, TPE, PLA, PVA, HIPS and several others at temperatures up to 450°C with precision results.



"OPENcontrol was an ideal choice for the PlastJet 3C printer because it allows the optimized management of printing systems in terms of cost and performance," reports Ivica Simunic, national sales manager for OSAI USA. "The OPENcontrol is designed to simplify installation and commissioning, for a faster time-to-market, as a result of its advanced software modules and hardware components."



OSAI'S OPENcontrol family of CNC's are scalable and with a computing power easily adaptable to any customized requirement with no modifications to the software or the application and with block processing speeds of up to 7,000 blocks per second. The OPENcontrol can also use compact or modular drives, servo motors, and spindle motors to meet any application needs.



OSAI's real-time SoftPLC, integrated in the CNC, is extremely versatile allowing interface of the control with most machine systems, from simple 3-axes milling machines to multi-axes and multi-spindle machining centers including today's high-end 3D printing systems.



OPENcontrol is backed by OSAI's more than 50 years experience providing leading original equipment manufacturers and machine builders with state-of-the-art CNC control solutions.



For more information on OSAI's OPENcontrol software, call 413-598-5200, or visit http://www.osaicnc.com or email sales.osai.usa.@primelectro.com OSAI USA, 711 East Main Street, Chicopee, Massachusetts 01020.

More from Electrical Equipment & Systems