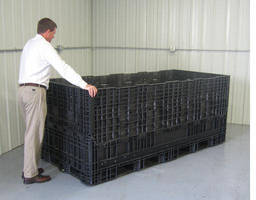 DALE, IN - Universal Package Systems has expanded its bulk container and tote cut and weld capabilities, and is now producing a wide variety of custom containers based entirely on customer demands. One of the more recent containers designed and produced in close collaboration with a Universal Package Systems' customer includes a 108 inch long x 48 inch wide x 44 inch tall bulk container with two...
Read More »
Since the introduction of EcoStar(TM) packaging and extruded rollstock in 2008, Placon Corporation of Madison, WI has seen considerable growth and interest in its line of RPET eco-friendly packaging materials. Across multiple markets-including food, retail, and medical-many companies are opting for eco-friendly packaging in response to consumer and retailer demands. While virgin PVC packaging...
Read More »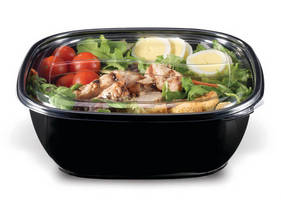 Fresh 'n Clear(TM) bowls are offered in sizes ranging from 8-64 oz, including 32 oz shallow bowl. Providing horizontal storage, products are manufactured with EcoStar(TM) food-grade recycled PET containing minimum of 35% recycled content. Tight-fitting and leak-resistant lid styles include flat lid with embossed design, flat lid that accommodates self-adhesive labels, and dome style lid which...
Read More »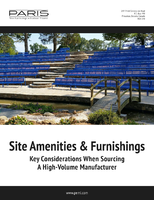 This white paper looks at the six key considerations when sourcing a high-volume manufacturer of site amenities and furnishings. Download now to find out more.
Read More »
EcoStar(TM) PC50, consisting of 50% post-consumer content and 85% recycled content, is designed for secondary packaging and can be tinted for identification purposes or have UV resistance included. Suited for medical environments with in-house form/fill/seal operations, EcoStar(TM) HS 1000 material has 35% post-consumer content. Both are suited for packaging medical devices, products, and...
Read More »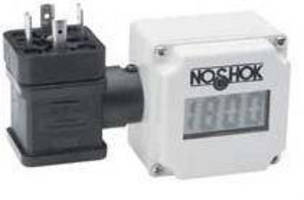 Berea, Ohio - Backed by a one year warranty, NOSHOK is offering a complete line of digital indicators to fit all of your application requirements. NOSHOK calibrates all of its indicators to your transducer requirements at no additional cost - simply tell us how you want it set up, then plug it in and go! Attachable Loop Powered Digital Indicator (1800 Series) o Easily inserted into NOSHOK...
Read More »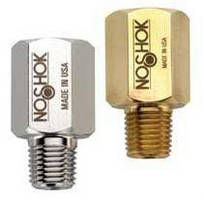 Berea, Ohio - NOSHOK announces the availability of Sintered Pressure Snubbers, a simple and cost effective solution to protect expensive instrumentation. NOSHOK sintered discs are held intact by way of a set screw. Unlike the competitor's crimped method, NOSHOK Sintered Snubbers allow easy cleaning and/or replacement of the sintered disc by simply removing the set screw, replacing the disc and...
Read More »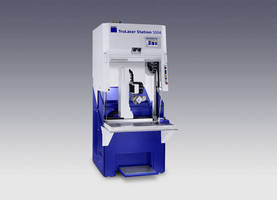 FARMINGTON, Conn.- At MD&M West 2010 in Anaheim, California, February 9 - 11, TRUMPF will show the latest advancements in laser technology for marking, welding and cutting. A highlight of the TRUMPF exhibit will be the TruMark 5020, the first fiber laser marker from TRUMPF. It is also the first fiber laser marker from the TruMark Series 5000. Its high speed, high pulse frequencies and its...
Read More »
Producing pad-like paper material from sheets of 17 x 20 in., 100% recycled paper, PackTiger® Hybrid(TM) lets operators use one system to create either void-fill or cushioning materials with variable pad length and density. Materials are suited for void-fill applications with small and medium voids or can be used for more demanding cushioning, blocking, and bracing applications. Configured...
Read More »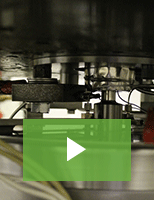 Test Devices helps you ensure the safety and efficiency of your high performance machines with cutting edge spin testing, rotor engineering, and precision balancing capabilities. Check out the video to learn more.
Read More »