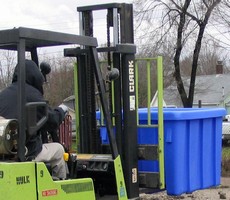 Rotationally molded of 100% polyethylene as single-piece units, Ship Shape(TM) shipping and storage containers have 44 x 44 in. footprint that enables North American exporters to ship unitized, palletless loads to China, Korea, Japan, Taiwan, and other countries in reusable containers that integrate with existing logistics systems and receiving equipment. Each stackable and nestable container...
Read More »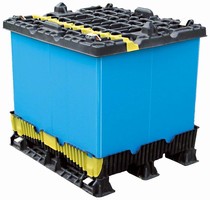 Returnable packaging solution, Step-Pak(TM), has ergonomic foot locking/unlocking system on deck of pallet. With 2 mechanisms placed on opposite sides, ABS latches lock/unlock system components without requiring operators to bend over. Each component locks firmly together - set up or knocked down - to account for pallet, sleeve, and lid at all times. Solution knocks down to 12.5 in. and is...
Read More »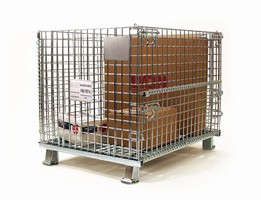 Wire mesh containers feature notched legs that interlock for positive stacking and permit forklift or pallet rack entry. Front drop gate allows access to contents when stacked. Featuring zinc-plated design for visual inventory of stored contents, units are available in 3 standard models that hold up to 4,000 lb each and can be stacked 4 high in 32 x 40 in. area, and 20 x 32 x 16 in. junior size...
Read More »
Springfield, NJ (PRWEB) November 28, 2006 - Flexcon Container announces its line of low cost ultra stack and hang bins. These strong injection molded plastic bins will help you organize your inventory. They are equipped for easy handling with front, back and side grips. These plastic bins are designed to hang from louvered panels or rails by built in full width rear hangers. An extra wide...
Read More »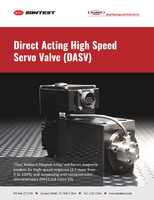 Download this paper to learn about how high performance servo valve's can be used in your most demanding hydraulic and pneumatic applications.
Read More »
CON Series containers hold items that require small, compact packaging, such as fishing lures and eyeglass repair kits. Measuring Â-½ in. deep and 2 in. in diameter, containers are available in various translucent colors, including clear, and come equipped with small tether that connects tops to bottoms.
Read More »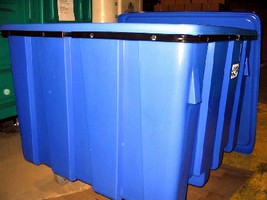 Providing 850 lb capacity, P-291 Ship Shape(TM) Container has powder-coated steel reinforcing brace set around perimeter at upper rim for added strength and support. Made of 100% polyethylene, rotationally molded unit measures 44 x 44 x 32.5 in., stacks up to 3 high when filled and covered, and nests 7 high for empty returns. Container is suitable for road transport and storage of plastic resin,...
Read More »
New Expanded Jar Product Line Broadens Rexam's Range of Stock Packaging Solutions Rexam, the global consumer packaging company and the world's leading beverage can maker, adds a new innovation to its product portfolio with the launch of its Expanded Jar Product Line. The Expanded Jar line offers the quality features of injection moulding, at a price point lower than that of comparable...
Read More »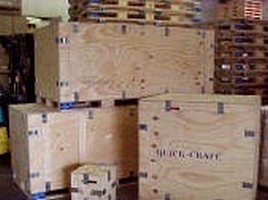 Made entirely from plywood, Quick-Crate boxes allows full product access from top or any side and can be collapsed to 9 in. high when not in use. Loaded crates can be stacked to maximize storage capacity. Exempt from ISPM-15 import/export regulations, products are certified by US Army's Defense Ammunition Center for transportation of live ammunition. Other uses include automotive and aerospace...
Read More »
CHICAGO, Nov. 2 -- PACK EXPO -- United Kingdom consumers who enjoy the rich, creamy flavors of Premier Foods' popular Bird's Custard brand now have a lighter alternative called Angel Delight(R) custard packed in paperboard cans from Sonoco. Angel Delight instant custard mix is available in nine flavors: banana, butterscotch, chocolate, lemon, raspberry, strawberry, and three no-sugar added...
Read More »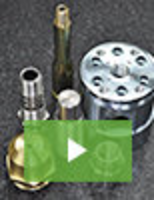 Quality, customer service, and unbeatable value are the hallmarks of Hogge Precision. Since 1989 we have built a reputation as the go-to precision machining source, servicing many demanding industries. For CNC machining and screw machining, there are few manufacturers that can match our capabilities and expertise. See our video to learn more.
Read More »