Light 64 oz Hot Fill PET Bottle has sustainable design.
Press Release Summary: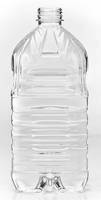 Offered as stock container for juices and teas, 59 g Powerblock 3.0 hot fill polyethylene terephthalate (PET) bottle features 38 mm lightweight finish as well as optimized filling and stacking performance. Multiple fill contact points and flat sides promote stability, while optimized footprint lends to pallet pattern and corrugate savings. In addition to sustainability benefits, container provides secure consumer handling with 3 intuitive areas for single-hand pouring.
---
Original Press Release:

Amcor's Powerblock 3.0 Container is Packaging Industry's Lightest 64oz Hot Fill PET Bottle



Patent-Pending Technology Delivers Unprecedented 13.2% Weight Savings and Major Sustainability Advantages



MANCHESTER, Mich. – Amcor Rigid Plastics, the world's leading producer of PET packaging, has developed the industry's lightest 64oz hot fill polyethylene terephthalate (PET) bottle, establishing a new standard for the size category. The unique stock container for juices and teas delivers major sustainability advantages by utilizing novel design, tooling, and process technologies to slash 9 grams, or 13.2%, from the typical 68 gram PET bottle.



Amcor's Innovation Group, consisting of a cross-functional design team of 20-year packaging veterans, developed patent-pending Powerblock 3.0 technology to provide a lightweight and strong hot-fill stock PET bottle with superior filling and stacking performance. The hot fill container also boasts a 38mm lightweight finish which saves considerable material compared to the standard 43mm finish for 64oz PET bottles.



"The Powerblock 3.0 container is a major breakthrough because we achieved a highly sustainable packaging solution without compromising performance," said Michael Lane, Amcor principal engineer. "Our unique lightweight design retained line/stack handling performance and maintained ergonomic features for consumer handling."



Multiple utility and design patents are pending for this novel Powerblock 3.0 container. One patent covers an optimized conical base pushup with special diameter and height ratios and relationships. Another patent covers a round or rectangular base with strap-like features that are added to create a footed-style base. The segmented standing surface consists of four standing one-inch columns, which are lightweight, strong, and rigid.



Together, these technologies work synergistically to unlock material normally trapped in the base area. This allows for better material distribution in the container body, resulting in a lighter weight container without sacrificing performance. Angles, ratios, and other bottle geometry are optimized to obtain a balanced response to vacuum, pressure, and top load forces.



Powerblock 3.0 provides numerous benefits including multiple fill contact points and flat sides for added stability; optimized footprint (width and depth) for improved pallet pattern and corrugate savings; sustainability benefits including a reduced carbon footprint and transportation costs; and secure consumer handling with three intuitive areas for single-hand pouring.



Amcor applied its vast industry experience and advanced simulation programs to develop the lightweight base technology. A number of virtual modeling techniques were utilized to effectively predict key performance parameters like quantified hot-fill characteristics and warehouse stack performance.



While Powerblock 3.0 is initially targeted for 64oz hot fill containers, Amcor expects to adapt the technology to other hot-fill bottles. Amcor has completed all development and the stock bottle is already commercial in several locations across the U.S.



For further information, please contact:

Lisa Petersmark, Commercial Director

Tel. (734) 428-4711, Lisa.Petersmark@amcor.com



About Amcor

Amcor Rigid Plastics is among the world's largest manufacturers of plastic packaging for the beverage, food, personal and home care, and pharmaceuticals industries with 71 facilities in 12 countries. Amcor Limited is a global leader in responsible packaging solutions, employing more than 35,000 people worldwide, operating in 43 countries across 300 sites. Amcor supplies a broad range of plastic (rigid and flexible), fibre, metal and glass packaging solutions to enhance the products consumers use in everyday life. Amcor also provides packaging-related services that help customers succeed through collaboration and innovation driven by art and science. Amcor is headquartered in Melbourne, Australia and is listed on the Australian Securities Exchange. For more information, visit www.amcor.com.

More from Mechanical Power Transmission