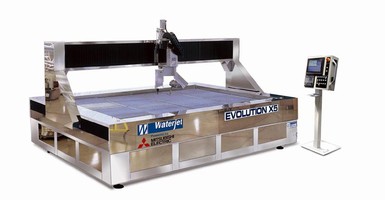 June 10, 2008 See How Joe Gibbs Racing Relies on Mitsubishi Supply Chain at Booth D-4202 Wood Dale, IL - MC Machinery Systems, Inc. prepares for an exciting 2008 IMTS. With a total supply chain of complementary technologies, Mitsubishi has the experience and equipment solutions to help U.S. manufacturers achieve maximum productivity in every industry. Mitsubishi's industry-leading technology,...
Read More »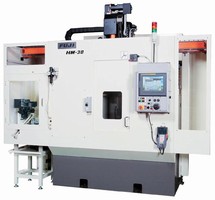 Featuring 4-axis (X/Y/Z/C) simultaneous control, HM-3000 is equipped with gantry robot for work piece loading and unloading efficiency. For accelerated and smoother simultaneous multi-axis movement to access front, back, left, and right of traverse axis, milling cell comes with SP1 Max Robot Controller in addition to Fanuc 210i-MB CNC Control. Tools are mounted in circular arrangement, and...
Read More »
June 17, 2008 M.A. Ford (Davenport, Iowa) is pleased to introduce an exciting new product at IMTS08. The TuffCut® XR7 is a 7-flute version of the popular XR high performance end mill. This end mill was developed with special fluting features to meet the increasing demand to machine aerospace materials such as Titanium. The tool is capable of providing 40% more metal removal per inch than a...
Read More »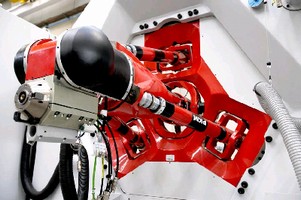 Offering 5-axis interpolated machining, Tricept T9000 can perform milling, drilling, routing, deburring and finishing, optical inspection and touch probing, fastener/rivet installation, and friction stir welding. Each strut delivers 990 mm stroke, giving machining reach of metric/inch in both X and Y and metric/inch in Z. Equipped with 6,000 rpm, 50 hp HSK63 spindle, machine delivers ±0.038...
Read More »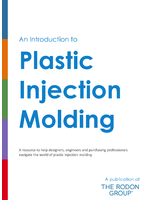 We developed this eBook with designers, engineers and purchasing specialists in mind. It is written to provide a basic understanding of plastic injection molding presses, processes and costs. Our goal is to make our customers more knowledgeable about what goes into making a plastic part.
Read More »

With Z-axis rapid traverse rate of 32,000 rpm and Y-axis stroke of 2.16 ft, NT6600 DCG® provides maximum machining length of 19.93 ft. Automatic Tool Changer cuts tool change time to less than 10 sec from any position on spindle. Combining lathe with machining center, system includes direct drive motors to eliminate backlash and enable high-speed rotation. DCG technology minimizes vibration by...
Read More »

Optimized to keep interfering contours minimal, TENDO LSS compact hydraulic expansion toolholder can be used to access difficult parts of workpiece in working areas where appliances create difficult conditions. It has runout of less than 0.006 mm at L1, is 200 mm, and features vibration dampening that improves surface quality of workpiece. Available for mounting on shank SK 40, unit comes with...
Read More »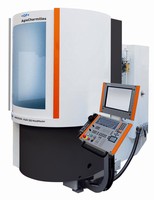 With fast linear axes and 30,000-rpm, high frequency spindle, Mikron HSM 300 MoldMaster provides damping properties and stability essential for high-speed milling. Machine is outfitted with zero-play linear guides, high-resolution glass scales, and preloaded ballscrews to ensure accurate positioning and high rigidity with axis acceleration rates of up to 1.2 G. Built on polymer granite base, it...
Read More »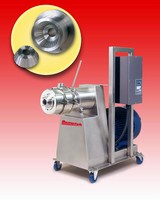 A line of colloid mills that can be tailored to match specific customer processing requirements ranging from low- to high-viscosity to abrasive slurries is available from Bematek Systems, Inc. of Salem, Massachusetts. Bematek Colloid Mills have a milling head which features a standard rotor and stator with working surfaces that can be tailored by the manufacturer to meet specific customer...
Read More »
Ranging in size from 4 x 12 in. to 8 x 18 in., HT Series is supplied with electronically heated rolls and delivers ±2°C temperature control across roll face. All control packages incorporate user-friendly interfaces, and ergonomically designed mills eliminate need for hot oil or steam temperature control unit. Products meet all OSHA requirements and are offered with multiple optional...
Read More »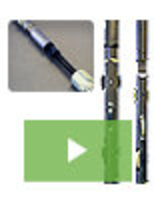 For over 35 years our Wheeled Rod Guide Couplings, have been at work in oil fields across the globe. Our products are engineered to extend the service life of sucker rods and tubing, delivering cutting-edge innovation that enhances oilfield operation, maximizes output, and enhancing overall operations. To learn about the advantages of using Wheeled Rod Guide Couplings in your wells, see our video.
Read More »