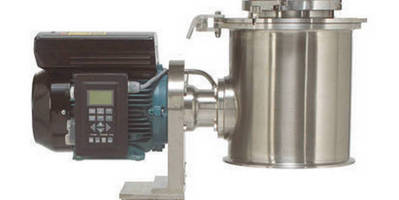 The Huijbregts Group (Huijbregts) is a European food processor. They were looking to increase capacity, efficiency and quality at their facility. To this point in time, the manufacturer was utilizing various sifting technologies such as Vibratory and Horizontal Centrifugal Sifters with differing sieve size diameters, based on the initial particle size of the product. To ensure that they were...
Read More »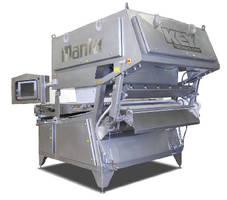 Featuring 1,520 mm wide scan area and up to 7 cameras and 2 lasers, Manta 1600 is suited for vegetable and fruit production lines. Using color and/or Vis/IR cameras, system recognizes each object's size and shape as well as millions of subtle color differences to remove defects based on user-defined reject standards. System can be equipped with FMAlert(TM) quality monitoring capability, which...
Read More »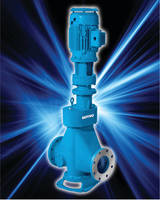 Springfield, Ohio - Moyno will exhibit its line of sanitary pump products for the food processing industry at the Worldwide Food Expo show October 28-31, 2009 in Chicago at booth #S3243. The display will feature a new Sanitary Wine Pump, along with the versatile Moyno® Sanitary Pump and the Moyno® Chopper Hopper(TM). The new Sanitary Wine Pump offers distinct performance advantages in must,...
Read More »
CLARKSVILLE, IN -- Apple Food Systems recently designed and installed new self-clearing heads on a six across depositing (filler) system which will produce 240 flatbreads per minute. Food Industry manufacturers who produce flat breads or pizza will appreciate the need for a tight and accurate weight deposit which is configured in a specific and totally designable pattern. The new head design...
Read More »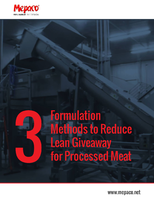 Download this white paper, and learn about three methods that can help you improve your bottom line and yield by reducing lean tissue giveaway.
Read More »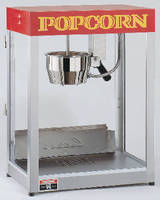 Providing snacks for employees during downtime or serving at station-hosted events, T-3000 Plus pops 240 single-ounce servings per hour. Construction includes corrosion-resistant stainless steel or nickel-plated, all-steel kettle and tempered safety glass that can be etched with station logo. Single-push One-Pop button option heats kettle, pops corn, and shuts off after one cycle. Other options...
Read More »
Today's beverage processing company is under intense pressure. Faced with many issues including a shortage of skilled labor, the need to produce more goods from existing production lines at a lower cost and having to meet the demands placed by regulatory agencies, many processors are looking to their capital equipment suppliers for answers. The Quadro Ytron® Powder Disperser provides the...
Read More »
Liquid fruit and vegetable wash is safe to store and handle and is formulated with generally recognized as safe (GRAS) ingredients. Environmentally friendly citric acid formulation removes wax, dirt, soil, and residues that are not removed by simply rinsing with water, allowing produce to be cleaned quickly and safely without sacrificing quality. Wash is effective on all fresh produce, does not...
Read More »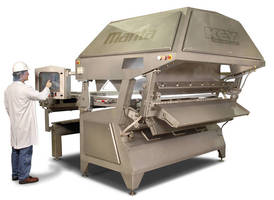 Manta® uses Vis/IR cameras, Raptor laser technology, and LED lighting to recognize object size, shape, and color differences to detect foreign material. Locating Manta at end of processing line helps assure quality of final product; it can tally specific product characteristics and trigger alarm or process adjustment if out-of-tolerance conditions are detected. Featuring 2 m wide scan area,...
Read More »
Designed for in-motion sizing and distribution of poultry items, 9 in. AccuSizer(TM) Portion Classifiers handle breast filets, wings, drums, thighs, whole legs, and other smaller food portions weighing less than 2 lb and shorter than 10 in. Units incorporate tubeless frame, IP69K-rated touchscreen interface with graphical displays, and quick-release hopper and chute designs. Operators can size up...
Read More »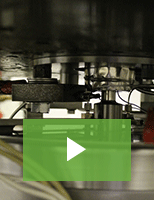 Test Devices helps you ensure the safety and efficiency of your high performance machines with cutting edge spin testing, rotor engineering, and precision balancing capabilities. Check out the video to learn more.
Read More »