Flume Wash is designed for fresh-cut produce.
Press Release Summary: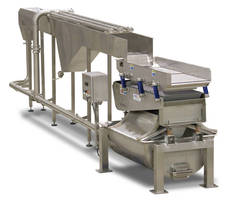 Suited for small to medium-large processors producing variety of products such as shredded, chopped, and whole leaf lettuce, cabbage, and baby spinach, Flume Wash gently removes heavy debris, silt, grubs, and floating contaminates. It handles up to 3,000 kg of leafy product or 7,000 kg of fruits or vegetables/hr. Featuring self-cleaning parabolic filter, heavy-duty pump motor, Iso-Flo® dewatering shaker, and Allen-Bradley controls, unit can achieve single, double, or triple wash.
---
Original Press Release:
Key Technology Introduces Redesigned Flume Wash for Fresh-Cut Produce
April 14, 2009 - Key Technology introduces the redesigned Flume Wash for fresh-cut produce. Ideal for small to medium-large processors looking for an automated wash system, the Flume Wash gently removes heavy debris, silt, grubs, and floating contaminates. Featuring a new self-cleaning parabolic filter, heavy-duty pump motor, Iso-Flo® dewatering shaker, and Allen-Bradley controls, Key's new Flume Wash enhances performance, eases sanitation, and minimizes maintenance. Key designed the modular Flume Wash to provide fresh-cut processors with a basic and reliable wash system. Integrating one, two, or three flumes, depending on the needs of the processor, along with optional overhead spray bars on the dewatering shakers after each flume to rinse while dewatering, the versatile Flume Wash can achieve a single, double, or triple wash. The Flume Wash is suitable for a variety of fresh-cut produce including shredded, chopped, and whole leaf lettuce, cabbage, baby spinach, and spring mix as well as whole, sliced, and diced vegetables and fruits. It handles up to 3000 kg (6600 lb) of leafy product or 7000 kg (15,400 lb) of fruits or vegetables per hour. Processors can cut directly over the flume entry area or feed the wash system from a belt, shaker, or manually. The initial laminar flow provides a gentle product entry while adjustable water nozzles create a full immersion section in each flume for thorough washing and product mixing. The open flume provides dosification access for sanitation agents. An Iso-Flo vibratory dewatering shaker and parabolic screen that actively micro-filters to 254 microns after each flume insure maximum reuse of clean wash water via the closed-loop water recirculation system. To effectively wash product and ease sanitation, the stainless steel Flume Wash features an easily accessible settling sump that allows rocks and heavy silt to separate from product. A water unloading valve in the "deep zone" flushes sediments and bugs. During the sanitation shift, the Flume Wash can be cleaned via high-pressure washdown. Using an Iso-Flo vibratory shaker rather than a traditional belt conveyor at the dewatering stage improves sanitation and reduces maintenance while more effectively removing surface moisture so less water enters the drying process. The compact Flume Wash produces water flow rates from 1000 to 1325 liters (275 to 350 gallons) per minute, which can be easily adjusted at the control panel. Make-up water requirements are approximately 3.8 liters (1 gallon) per minute. A level sensor automatically controls the tank water level. Key's CE-marked and UL-certified Flume Wash is backed by a one year limited warranty. Spare parts and aftermarket support are available worldwide from Key's extensive sales and service organization. "The fresh-cut produce industry is an important strategic market to Key. We are focused on providing a wide range of superior processing and packaging solutions to help fresh-cut processors improve product quality and food safety while increasing operating efficiencies and cutting costs," noted Teri Johnson, Fresh-Cut Industry Manager at Key Technology. "The Flume Wash is one in a series of reengineered products in our fresh-cut line designed to deliver the greatest value to our customers." About Key Technology, Inc. Key Technology, an ISO-9001 certified company, is a leading designer and manufacturer of process automation systems, integrated electro-optical inspection and sorting systems, and processing systems. Key® systems help processors to improve quality, increase yield, and reduce cost. With worldwide sales representation, the company maintains demonstration and testing facilities at its headquarters and manufacturing divisions in Walla Walla, Washington, USA, and at Key Technology BV in Beusichem, the Netherlands. The company's common stock trades on the Global Market tier of The NASDAQ Stock MarketSM under the symbol: KTEC. Reader Inquiries To: Anita Funk, Corporate Communications Manager Key Technology, Inc. 150 Avery Street Walla Walla, WA 99362 USA Tel: 509 529 2161 Fax: 509 527 1331 Email: afunk@key.net URL: www.key.net
More from Electrical Equipment & Systems