Supporting DIGIPASS Authentication for Windows Logon, aXsGUARD Identifier is suited for small, medium, and large enterprises wanting to optimize secure access to corporate networks and applications for remote users or home workers. IDENTIKEY authentication server, offering OTP and e-signature capability, provides authentication through RADIUS on IIS-based applications, while SOAP interface...
Read More »
Supporting deployment as traditional gateway or as inline solution, NSA E8500 is intrusion prevention system firewall with application intelligence and control designed for enterprise. Threat protection is enhanced with visualization tools that offer range of data points on applications traversing network, including who is using them as well as potential security impact. Other features include...
Read More »

Optimized for quad-core Intel® Xeon® processor C5500 series with Intel® 3420 chipset, Model CAR-5000 features 2U rack mount chassis, dual sockets for processors, and Intel® QuickPath Interconnect technology, as well as Intel® Turbo Boost, Virtualization, and Hyper-Threading Technologies. Twelve DDR3 memory DIMMs support up to 96 GB system memory. Equipped with...
Read More »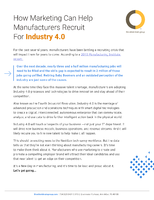 Manufacturers have been fighting a recruiting crisis for the past several years. This white paper offers tips for attracting new, young employees to your manufacturing company.
Read More »

Supporting 32 nm Intel® Core(TM) i3, i5, or i7 processors, Model FW-8760 utilizes Intel 3450 chipset and offers expansion via mini PCI and PCIe slots. Device has 8 onboard RJ45 Ethernet ports from Intel 82574L, with all 4 pairs supporting bypass function. Unit also includes space for additional network card that adds another 8 Ethernet ports. Supporting 3.5 or 2 x 2.5 in. hard drives...
Read More »
Used for enterprise-wide distribution of Internet Access, SafeSquid is offered in Linux version (ntlm.RC2.0) that supports NTLM authentication (single sign on) and Windows version (3.2.1.0) that has option to enable/disable NTLM authentication. Both versions include LDAP sub-system that facilitates integration to AD/LDAP server, enabling users to be applied to profile that facilitates definition...
Read More »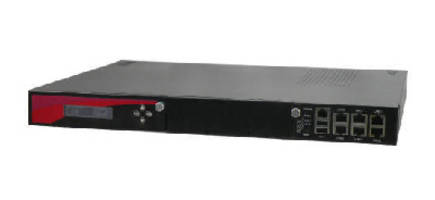 Based on Intel EP80579 integrated processor with Intel QuickAssist Technology, which provides encryption and decryption, 1U 19 in. rackmount Model AR-R5100FL offers 600 MHz or 1.2 GHz CPU choices and supports up to 4 GB single-channel DDR2 memory. Fanless appliance leverages PCIe technology and internal Giga LAN MAC to provide total of 6 GbE ports. Controlled by hardware and software, pair of...
Read More »
Suited for small to medium businesses, 19 in. 1U rackmount Model NA-811C is configured with Intel® Celeron® M/Pentium® M processor and Mobile Intel® 915GME chipset. Unit supports 2 DDR2 SODIMM slots with 400/533 memory up to 2 Gb, and is available with 4 GigE ports through PCIe interface with IP/UDP/TCP checksum offloading and VLAN tag support. To prevent problems from...
Read More »
WatchGuard XTM 8 Series network security appliance delivers 5 Gbps firewall throughput on networks of 1,000-5,000 users, and up to 1.2 Gbps with full security features activated. Built-in application proxies stop threats such as fragmented and malformed packet attacks, spyware, malware, denial of service, and more. Utilizing Fireware XTM OS, it offers HTTPS inspection, VoIP security, and IM and...
Read More »
Available in 4 versions, PoliWall® ESE(TM) Security Appliances protect enterprise data center networks, SMBs, consumers, and small offices/home offices. Units provide granular IP-based access control by filtering millions of global addresses with exceptions down to single address. With high-speed Internet Protocol Packet Inspection Engine, appliances offer traffic management and...
Read More »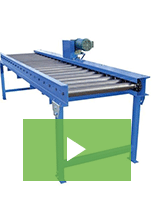 A-Plus Warehouse carries a wide selection of commercial and industrial material handling equipment at affordable prices. Check out the video to learn more.
Read More »