Industrial Firewall Appliance protects against cyber-attacks.
Press Release Summary: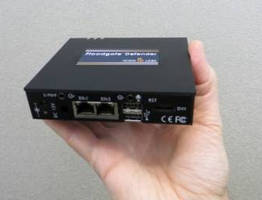 Floodgate Defender™ provides security layer to protect SCADA networks, military equipment, critical infrastructure controllers, and medical/industrial devices against cyber-attacks. Placed between Internet and device, solution is configured with communication policies customized for device it is protecting. Enforced policies block attacks before connection can be established with target device. Along with SPI and rules-based filtering, features include secure Web interface.
---
Original Press Release:

Icon Labs Announces Floodgate Defender(TM), a Compact Industrial Firewall



Floodgate Defender provides protection from cyber-attacks for industrial, military, and critical infrastructure equipment



Des Moines, Iowa – Icon Labs (www.iconlabs.com), a leading provider of embedded networking and security technology, announces availability of the Floodgate Defender firewall appliance. Floodgate Defender provides a critical layer of security for the devices that comprise 'The Internet of Things' including SCADA networks, military equipment, critical infrastructure controllers and medical devices.



"Many legacy devices that make up the 'Internet of Things' were originally designed for use on closed networks and therefore contain little or no security.  Even though they perform critical functions managing our power grid, factories, communication networks and hospitals, they are easy targets for cyber-criminals and cyber-terrorism," said Alan Grau, President of Icon Labs.  "Floodgate Defender provides a simple and effective solution to stop these attacks."



Floodgate Defender is placed between the Internet and the device.  It is easily configured with communication policies customized for the device it is protecting.  Floodgate Defender enforces the policies, blocking attacks before a connection can be established with the target device.  Floodgate Defender provides stateful packet inspection (SPI) and rules-based filtering.  A secure web interface is provided for configuring communication policies.



"Embedded devices have failed to maintain pace with the increasing number of attacks targeting them, making them easy targets for industrial espionage, hacktivists or even terrorist groups.  These devices need the same level of security used to protect enterprise networks," said Jared Weiner - Analyst, M2M Embedded Software & Tools, VDC Research. "Floodgate Defender provides these devices with a critical, missing layer of security."



Floodgate Defender is available now.  Floodgate Defender MSRP pricing starts at $995. Discounts are available for volume orders.



About Icon Laboratories, Inc.

Icon Labs is a leading provider of embedded networking and security solutions. Founded in 1992, Icon Labs is headquartered in West Des Moines, Iowa. For more information, visit www.iconlabs.com, send email to info@iconlabs.com, or call 1.888.235.3443 (U.S. and Canada) or 515.226.3443 (International).



PR Contact:

Mark Shapiro

619 249 7742

mshapiro@srs-techpr.com

More from Materials