In addition to boards and panels, Paradigm v3.6 ERP system offers ability for managing memory arrays from engineering through order management, production, and shipment. Pre-production engineering application, Engenix® v3.2.0, offers knowledgebase problem solving and customer communications module as well as rules-based plating assignment and thickness calculation feature. Also, XML-based web...
Read More »
Available as on-demand SaaS subscription for Mac OS X v10.4 and later, NetSyncX lets users synchronize Mac with NetSuite's integrated business software applications for Accounting/ERP (Enterprise Resource Planning), CRM (Customer Relationship Management), and eCommerce. It is built using NetSuite Business Operating System (NS-BOS) and connects to NetSuite via SuiteCloud, providing synchronization...
Read More »
Ross ERP v6.3.2 automates, processes, and provides documentation that helps chemical companies comply with their obligations under specific guidelines set forth in European Union REACH legislation. It is intended to address REACH directive that forbids sale of unapproved products within European Economic Area. Also, software assists U.S. and other non-EU companies in complying with REACH...
Read More »
Enterprise Engineer(TM) helps ensure integrity of documentation and business processes associated with operational assets and engineering projects; Web Services extends reach to users requiring access to validated engineering documentation without leaving primary application. Web Services include McLaren Search Service for SAP(TM) and Maximo(TM) users, and McLaren Simple Object Service that...
Read More »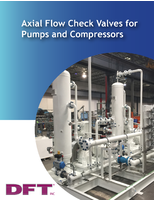 DFT® Inc. has provided a range of valve solutions for customers struggling with pump and compressor problems.
Read More »
OpenScale Professional Service and Integration Solutions, coupled with OpenScape Unified Communications (UC) Application, help organizations integrate their UC technologies with existing business applications. Helping to provide rich communications-enabled business processes (CEBP), service offerings facilitate process of implementing, integrating, and securing UC solutions while also making...
Read More »
Available for VARs to resell or integrate with business solutions, Mobile Power add-ons extend power and functionalities of MS CRM and ERP products to various Smart Phones and PDAs running on Windows Mobile, Blackberry, Apple iPhone, and G1. Business Power suite supplements functional and integration gaps of CRM, GP, NAV, and RMS with MS Office, MOSS, Map Point, and Web 2.0 platforms to optimize...
Read More »
Del Mar, California; March 10, 2009 - Beach Access Software announces the release of Version 22 of E-Z-MRP®, an integrated Material Requirements Planning system for small- and medium-sized manufacturers. Since its introduction over 20 years ago, the system has evolved to provide nearly every feature and function that a small manufacturer could ask for, said Rocky Smolin, founder of Beach Access...
Read More »
Featuring diverse platform support that includes Mac OS X, Enterprise Configuration Manager (ECM) v5.1 helps organizations achieve and maintain secure and compliant posture across heterogeneous environments. It provides unified, cross-platform patch assessment and remediation; extends compliance and change management into mission critical Oracle databases; and integrates configuration management...
Read More »
PlantWeb® architecture with Smart Operations Management suite chosen to optimize performance of Large Scale Cell Culture facility in Devens, Massachusetts AUSTIN, TEXAS (February 10, 2009) -- Global biopharmaceutical company Bristol-Myers Squibb (BMS) has selected Emerson Process Management to fully automate its new facility in Devens, Massachusetts. Emerson will apply its PlantWeb® digital...
Read More »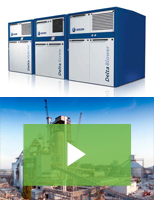 Aerzen offers blowers and compressors for challenging cement applications such as pneumatic conveying from raw mill to raw meal silos, combustion air, cement silos fluidization, and more. At Aerzen, safety is our top priority. Check out our video to learn more.
Read More »