ERP Software delivers real-time shop floor data.
Press Release Summary: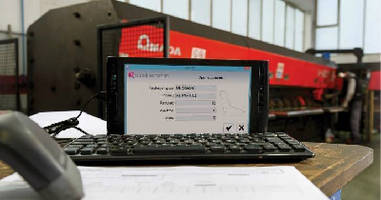 Fully integrated into Lantek Integra ERP system, Lantek Workshop Capture can record all aspects of shop floor activity, including time and attendance, production downtime, job status, manufacturing times, and operations to be completed. Program is compatible with most mobile devices, enabling data to be entered from remote locations within industrial plant, without need for cable connections, all through Wi-Fi Internet or Intranet access back to Lantek Integra server.
---
Original Press Release:

Lantek Workshop Capture, the Key to Knowledge Based Management



Lantek Workshop Capture which is fully integrated into the Lantek Integra ERP system makes it easy to have access to accurate, real-time shop floor data for informed decision making and production monitoring.



In the latest version, Lantek Workshop Capture is compatible with mobile devices such as smartphones and tablets as well as bar code readers and Windows based operating systems. These enhancements make the system completely mobile, enabling data to be entered from remote locations within an industrial plant, without the need for cable connections, all through Wi-Fi Internet or Intranet access back to the Lantek Integra server.



With Lantek Workshop Capture, all aspects of shop floor activity can be recorded including time and attendance, production downtime, job status, manufacturing times and operations to be completed. As the information is recorded when it happens, the Lantek Integra server will have the most up to date information in its database. For managers, the ability to check the current status of a job, analyse time management, examine machine or operation performance and determine costs for each part is invaluable. With this information they can keep customers informed, rearrange manufacturing priorities where necessary, check budgets and make decisions on equipment, all based on reliable information.  



For operators, data entry is easy using touch screen technology, keyboard entry or barcode depending on the device most suited to the application. The newly designed clear graphical interface makes working with Lantek Workshop Capture quick and intuitive, ensuring that it can be rapidly learnt and implemented. With the system, production personnel can perform tasks such as clocking in and out, recording start and finish times for each operation, identifying anomalies and logging machine downtime. The system is not limited to machining operations, so tasks such as CAM programming, assembly, welding or painting can be recorded just as easily with Lantek Workshop Capture. Entering data as it happens results in much more accurate information being recorded as it largely eliminates transcription errors, duplication of tasks and human error producing further benefits such as reduced administrative effort and less time and material lost through production mistakes.



By bringing together real-time information about all the production tasks required, manufacturing companies can achieve significant efficiency improvements which translate into cost savings, faster and more on-time delivery, satisfied customers and increased business.



About Lantek

Lantek is a leading global multinational in the development and commercialisation of software solutions for the sheet metal and structural steel industry. Its capacity for innovation and its firm commitment to internationalisation and the development of emerging markets has led Lantek, founded in 1986 in the Basque Country and with head offices in Vitoria (Alava), to become a global reference in the industry with its CAD/CAM/MES/ERP solutions. Today, the company has over 13,000 clients in more than 100 countries, offices in 15 countries, and a wide network of distributors providing worldwide coverage. In 2012 its international operations provided 85% of its turnover.



For more information visit our website: www.lanteksms.com or request more details at: marketing@lanteksms.com



For more information

Rob Powell

Managing Director

Lantek Systems Ltd

Malvern Hills Science Park

Geraldine Road

Malvern

Worcestershire

WR14 3SZ

Tel: 01684 585384

Fax: 01684 585201

Email: rob.powell@lantek-systems.co.uk

Web: www.lantek-systems.co.uk

More from Test & Measurement