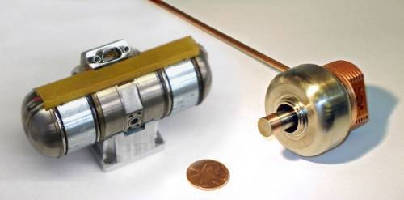 Capable of cooling IR sensor in 3 minutes, Fast Cool Down Microcryocooler ensures military can have rapid-reaction systems. Unit is suitable for sophisticated electronics like satellite sensors and cameras that need to be cooled to detect what they are designed to capture, even to temperatures as low as -320°F. Using miniaturized compressor and cold head measuring just 54 mm long, cooler weighs...
Read More »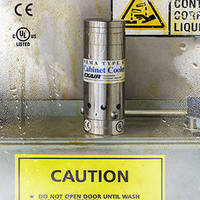 Available with cooling capacities of 275 and 550 Btu/hr, Small 316 Stainless Steel Cabinet Cooler® Systems keep electrical enclosures cool with 20°F air while resisting heat and corrosion that could adversely affect internal components. Units mount through standard electrical knockout while maintaining NEMA 12, 4, or 4X rating of enclosure. Automatic drain filter separator ensures no moisture...
Read More »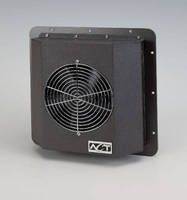 Available in 3 versions, Sealed Enclosure Coolers dissipate heat inside enclosures or cabinets that protect electrical/electronic equipment from harmful environments. HSC Series utilizes air impingement technology, while HPC Series is based on heat pipe heat exchanger technology and advanced fin features. LNC Series utilizes HSC-style air impingement heat sink to collect heat from hot inside air...
Read More »
New Open Rack, power supply unit and battery back-up unit concept designs, whitepapers and a reference design showcased at Open Compute Summit ANDOVER, Mass.- – Schneider Electric, a global specialist in energy management and automation, today showcased at the Open Compute U.S. 2016 Summit new solutions and resources aimed at making Open Compute more attainable for data center managers. The...
Read More »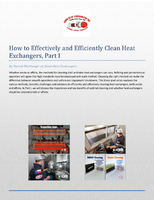 An introduction to a three part series about the importance, benefits, and methods of cleaning heat exchangers.
Read More »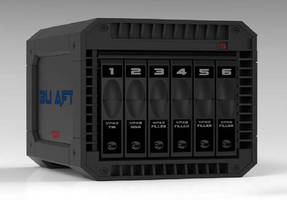 Demonstrates industry's first AFT cooled 3U VPX COTS system at ETT 2016 symposium EMBEDDED TECH TRENDS 2016 (ETT) – HOUSTON, TEXAS – Curtiss-Wright's Defense Solutions division today announced that it will support the new VITA 48.8 Air Flow Through (AFT) cooling standard with a range of 3U and 6U modules designed to bring the advanced cooling technology to rugged deployed embedded...
Read More »
Intended for cooling small outdoor electronics and instrumentation equipment cabinets in hot and humid climates from -20 to +55C, 75 x 52 x 25 cm MULTICOOL 1100 features glass reinforced polyester (GRP) housing and 1,100 W of cooling power. Self-contained, thermostat-regulated, 38 kg cooling module mounts directly on outside wall of equipment cabinet, and closed-loop refrigeration system does not...
Read More »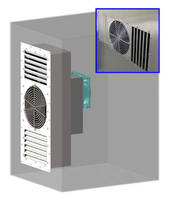 Available in- 5 sizes, internally mounted air conditioners are suited for use where enclosure cooling is required but space requirements prohibit external protrusion. Design offers horizontal or vertical mounting completely internal to enclosure, and performance ratings range from 155–390 BTU/hr. Versions for temperature control and different environment ratings are also available. There are...
Read More »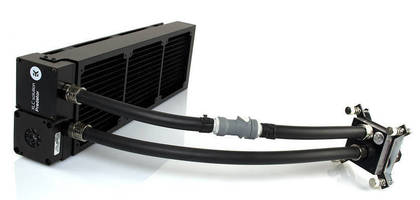 In addition to EK-Vardar high static pressure fans, preassembled EK-Predator 240 uses G1/4 threaded ports and 10/16 mm Zero Maintenance rubber tubing (EK-ZMT) that support expansion with custom loop gear. Predator 360 further integrates Quick Disconnects for tool-less expansion without draining. Assembly incorporates radiator dampeners; Supremacy™ MX CPU water block; CoolStream™ PE radiator...
Read More »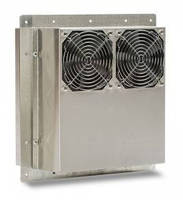 Coolers of Auto-Ranging Series (M105), including ThermoTEC 141, 145, and 151 Series, features auto ranging power capability- for operation from 120 or 240 AC power. Auto ranging feature also automatically tracks and optimizes available voltage to provide unimpeded cooling. Manufactured to NEMA 4X standards, air conditioners operate at temperatures up to 140°F and are available with...
Read More »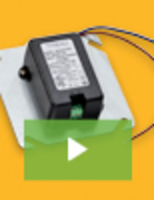 Triad Magnetics is an established leader in power supply innovation, offering product lines that span a wide range of diverse industries and applications. Adding to their long list of successful product launches, Triad announces the release of the new cutting-edge JSU Series of power supplies. To learn about all of its advantages and advanced features, see our video.
Read More »