CPU Coolers feature pulse width modulation.
Press Release Summary: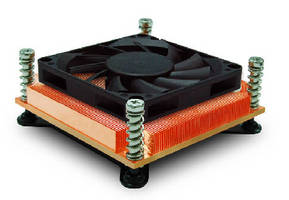 Compatible with Intel® LGA1366 type CPUs up to 85 W, Freezer 120 Series is available with pulse width modulation, with fan speed changing automatically, based on CPU loading activity. Fan speed operates within range of 800–4500 rpm with maximum airflow of 27.02 cfm and noise range of 0–39 dBA. Measuring 90 x 90 x 26.5 mm, coolers have 2 ball bearings and are rated for 12 V operation.
---
Original Press Release:

FZtech Introduces Server Cooler Freezer 120 Series - Designed for the INTEL® LGA1366 CPU (1U Server Industrial PC)



FZtech, the Taiwan-based thermal and metal products manufacturer, is pleased to announce the addition of the Freezer 120 Series – LGA1366 CPU Cooler for 1U Server IPC (Industry Personal Computer) which is compatible with the INTEL® LGA1366 type CPU (Up to 85W solution). The Freezer 120 cooler is available with a two ball bearing, moreover, users can choose their CPU cooler to come with pulse-width modulation (denoted in the model name by PWM) in order to optimize cooling with fan speed changing automatically, based on CPU loading activity.



In the PWM enabled model, the Freezer 120 series of CPU coolers are 90 x 90 x 26.5mm in size and 700 grams in weight. Fan speed (RPM) operates within a range of 800 (±30) to 4500 (±10%) with maximum airflow (CFM) of 27.02 (±10%) and a noise (dBA) range of 0 to 39.



Freezer 120 series assists users in increasing cooling. All of the fans used in Freezer 120 CPU coolers have a rated voltage of 12 volts, and the interface material of this model is made of a high efficiency thermal compound.

    

FZtech's Freezer Series 120 of CPU coolers are compatible with the following CPUs:

• Core i7 (Up to 85 W)

• Intel Xeon (Up to 85W)

• Intel Celeron (Up to 85 W)



Freezer 120 model names are as follows:

• Freezer 120 PWM (2 Balls Bearing)     

        

About FZtech, Inc.     

As a creator and supplier of cutting edge, high-quality, reasonably priced, thermal and metal products for use in PC, LED, and consumer electronics product applications, FZtech offers total metal and thermal solutions and provides OEM services to various industry leading companies, including Advantech, Advansus, Avalue and Tranquil PC. For more information visit FZtech online at www.fztech.com.tw.

More from Mounting & Attaching Products