Gate Drivers control power semiconductor applications.
Press Release Summary: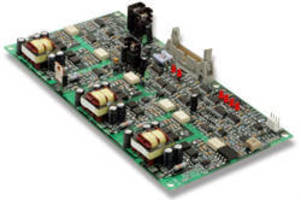 Incorporating isolated power supplies and protection features required for safe operation of power stages, IGBT and SCR Gate Drivers include isolated analog feedback of critical power stage parameters, DC bus voltage, output current, and device temperature. IGBT gate drivers control 2-6 IGBTs at currents in excess of 1,400 A, while SCR gate drivers control up to 12 SCRs, making them suited for ac and dc inverter, converter, and power supply applications.
---
Original Press Release:

Total Control For Power Semiconductor Applications



Applied Power Systems, Inc. (APS) is a power engineering and manufacturing company with our primary focus on providing high power solutions and encompasses multiple disciplines, offering mechanical, thermal, and electrical expertise in the design and manufacture of high power systems. We have now added an industrial IGBT inverter & SCR/Diode converter and controller for fast, reliable power solutions.

APS IGBT and SCR Gate Drivers incorporate the isolated power supplies and protection features required for safe, reliable operation of power stages, plus the isolated analog feedback of critical power stage parameters, DC Bus Voltage, output Current and device Temperature. Our IGBT Gate Drivers control from two up to six IGBTs at currents in excess of 1400 Amps. Our SCR Gate Drivers control up to twelve SCRs and offer the highest level of integration available in the market for AC & DC inverter, converter and power supply applications.

APS is focused on providing leading edge, high technology solutions for power stages and gate driver boards. Our products include high power Inverter & Converter power blocks and AC Phase Control Power Stages. We offer Gate Driver Circuits & Driver Boards for IGBT, SCR and MOSFET devices, fiber-optic interfaces, high voltage drivers for IGBTs and SCRs, Snubber boards, etc. APS also produces a complete line of high power semiconductor assemblies (air & liquid cooled) and rectifier bridges. We offer a wide range of power conversion systems and custom solutions as well as leading edge power electronics products.

Ask the experts and talk to an APS engineer at: Ph: (516) 935-2230 Fax: (516) 935-2603 Or Email: info@appliedps.com

Please visit our wesite for more details at www.appliedps.com

Applied Power Systems, Inc.
Hicksville, NY 11801