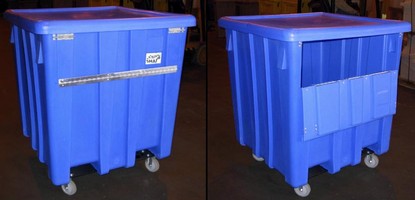 Able to accommodate up to 700 lb in 44 x 44 in. footprint, P-333 Ship Shape(TM) bulk forklift container is designed for transport and storage of loose, granular, and powdered products and materials. Optional hinged panel opens on one side to promote access to goods, accelerating order picking and assembly operations as well as visual inspection. Panel also seals shut for secure lifting and...
Read More »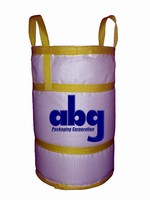 Rockford, IL - January 30, 2007 -- In the aggressive business environment today, a competitive advantage over your competition can result in a dramatic increase to your company's bottom line. ABG Packaging, a manufacturer and importer of industrial flexible intermediate bulk containers (FIBC) and related bulk packaging products, has developed the DrumSak(TM) to give users of steel, plastic and...
Read More »
NEW YORK --Aug. 29, 2006--L-3 Communications (NYSE: LLL): -- L-3 to develop fully integrated cargo container security device to ensure supply chain integrity, automatically detecting threats that no other sealed cargo screening technology can discover in real time, including human beings, unauthorized entries or container breaches L-3 Communications (NYSE: LLL) announced today that its Security...
Read More »
New Expanded Jar Product Line Broadens Rexam's Range of Stock Packaging Solutions Rexam, the global consumer packaging company and the world's leading beverage can maker, adds a new innovation to its product portfolio with the launch of its Expanded Jar Product Line. The Expanded Jar line offers the quality features of injection moulding, at a price point lower than that of comparable...
Read More »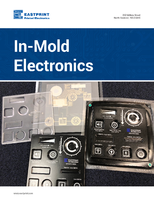 To learn more about in-hold electronics (IMEs) and solutions offered by Eastprint, Inc., download now.
Read More »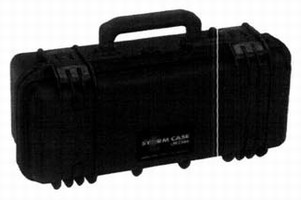 Built from HPX resin, Storm Case iM2306 has 17 x 6.3 x 6.2 in. of interior space in which to transport sensitive items requiring protection from mechanical shock and vibration, impact, water, and dust. Layers of cubed foam hold case contents firmly in place and can be customized to fit specific pieces. Also available, padded dividers keep sensitive gear separate, stable, and secure. Case weighs...
Read More »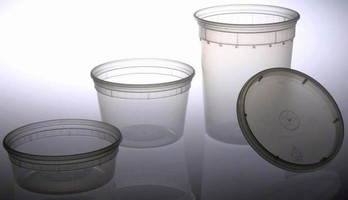 Snap-Top (Deli) Containers are offered in 8, 12, 16, 26, and 32 oz sizes, all of which use same sized lid. While containers are constructed of natural polypropylene, matching lids are molded of natural LDPE. White-colored products can be labeled and used with wet-bands. They are suited for food products; testing various chemical formulae; as well as research and development in industrial...
Read More »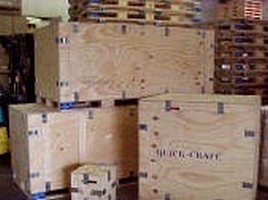 Made entirely from plywood, Quick-Crate boxes allows full product access from top or any side and can be collapsed to 9 in. high when not in use. Loaded crates can be stacked to maximize storage capacity. Exempt from ISPM-15 import/export regulations, products are certified by US Army's Defense Ammunition Center for transportation of live ammunition. Other uses include automotive and aerospace...
Read More »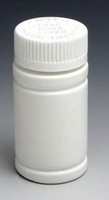 UNION, NJ - O.BERK Company is proud to introduce its proprietary Vitamin Wide Mouth Round in HDPE. This 75 cc white bottle has a 33/400 finish, which works well with a child-resistant closure for pharmaceutical, vitamin, and nutritional products. It has an indented panel for distinct labeling and a better grip for opening the bottle. Visit our informative website at OBERK.com to view these as...
Read More »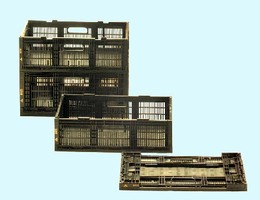 One of India's largest corporations identifies SmartCrate(TM) as the best reusable container for handling food Saint-Damien, QC- IPL Inc (TSX, IPI.A), one of North America's leading producers of plastic products, has announced the sale of technology and expertise for manufacturing its reusable SmartCrate(TM) containers to Reliance Industries Limited, one of India's most powerful industrial...
Read More »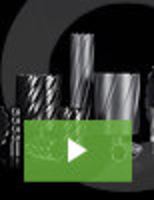 As a globally recognized manufacturer of industrial grade portable tools, Euroboor is at the forefront of drilling and cutting technology. Our reputation as an industry leader is built on robust products that fit a wide range of industrial cutting and drilling applications. See our video to learn more about all of our quality products.
Read More »