New support services optimize business-critical applications on HP ProLiant servers PALO ALTO, Calif. - HP today announced a comprehensive support solution that enables clients running business-critical applications on virtualized HP ProLiant servers to improve performance and availability while reducing costs and complexity. The new HP Critical Advantage service provides clients with an assigned...
Read More »
Select Lenovo PCs to be First Devices Sold With AT&T's 24/7 Remote IT Support Service DALLAS and RESEARCH TRIANGLE PARK, N.C. - For small and midsize businesses, every minute of downtime could mean lost revenue, customers and/or market share. To provide more uptime for these businesses, AT&T* and Lenovo are announcing today the bundling of AT&T Tech Support 360(SM) with select Lenovo PCs. With...
Read More »
Accessed via one click on desktop icon, LivePCSupport puts computer users in touch with Comodo experts who can remotely fix problems over Internet using chat window similar to IM programs. Service comes with Comodo Endpoint Security Manager and supports operations such as virus diagnosis/removal, PC tune-up, Internet login protection, email account setup, software installation, printer setup,...
Read More »
To ensure critical technology systems remain up and running, NETPro Store maintenance packages offer retailers solution for servicing in-store structured cabling systems. Service includes pre-bundled, response-time service level packages that fit retailers' support needs, business goals, and objectives. Scalable plans help implement and maintain consistent and reliable service and maintenance...
Read More »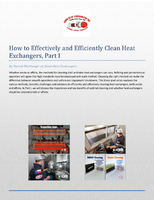 For refineries and petrochemical plants, cleaning heat exchangers is a dirty job but somebody has to do it. While there are many approaches on how to clean shell and tube heat exchangers, it is indisputable that the right method is absolutely critical for ensuring that equipment is fully operational. Otherwise, you could end up with a potential equipment shutdown, which will cost you time and money. In this three-part series, you will learn about the various benefits, methods, and obstacles involved in heat exchanger cleaning. Part one introduces the fundamentals of cleaning, as well as explores the pros and cons of on-site versus off-site services. Download the first of this three series to assist you in finding the best solution for your dirty job here.
Read More »
With LivePCSupport, Internet users communicate with technical support experts through instant messages. Support technician connects to subscriber's computer via Internet, and in many cases, can delete files or change settings to fix problem. Service includes virus diagnosis and removal, PC tune-up, Internet login protection, email account setup, software installation, printer setup, and both...
Read More »
PALO ALTO, Calif., Jan. 14, 2008 - HP today announced new economical servers, application solution blueprints" and enhanced remote management software that can help midsize companies reduce operating costs while supporting their growth. The company's entry-level server portfolio now includes four new HP ProLiant server platforms that help midsize customers with limited space, budgets and IT...
Read More »
Sony Style Takes Customer Service to the Next Level by Offering VAIO Owners In-Store Support SAN DIEGO, June 26 / / - Sony Electronics today announced the rollout of Backstage, a VAIO PC support service, to four Sony Style retail stores in New York and New Jersey. The service has already been introduced at three store locations - San Diego (Fashion Valley); Scottsdale, Ariz. (Fashion Square); and...
Read More »
Available at OfficeMax stores and online, ctrlcenter(TM) offers small businesses, home office workers, and other PC users 24/7 remote alternative to physical visits. Services include Set-Up for new PCs, wireless networks, peripherals, and software; Fit-It services such as PC Restoration and General Technology Help Session to restore performance; and Protect-It services including PC Guardian and...
Read More »
Designed to ensure customers get reliable access to e-mail and messaging systems, onsite Health Check Service provides complete, in-depth analysis of performance, reliability, and security of client's critical messaging infrastructure. It deploys same consultants that Microsoft and other companies rely upon to solve their most pressing e-mail issues around current Microsoft Exchange Server...
Read More »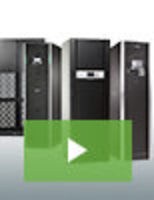 At 3Sixty Mission Critical, we specialize in maintaining the performance and uptime of our customer's mission-critical applications. Our services are comprehensive and designed to take on the entire burden of maintenance. Our "UPS as a service" is just another example of how we develop out of the box solutions to help our customers operate more efficiently; see our video to earn more.
Read More »