Offered in standard wavelength of 808 nm with power levels up to 900 W, Hermes QCW Laser Arrays degrade by less than 5% over 2 x 108 shots, making them suited for rangefinding, target designation, and pumping. Units are based on Quantum Well Intermixing process, which increases quantum well band-gap of semiconductor laser in controlled manner. Available as vertically or horizontally stacked...
Read More »
New XA Spartan-3E FPGA Automotive ECU Development Kit accelerates design for infotainment, driver assistance and driver information applications LAS VEGAS, Jan. 7 -- At the Consumer Electronics Show (CES) today, Xilinx, Inc. (NASDAQ:XLNX), the world's leading programmable logic supplier, announced immediate availability of the Xilinx Automotive (XA) Electronic Control Unit (ECU) Development Kit,...
Read More »
Featuring on-board flash memory, 66 user I/O, and over 192 equivalent macrocells, Model IGLOO AGL030 is 30,000-gate, 5 Â-µW device that is suited for power-sensitive, space-constrained handheld devices such as smart phones, portable media players, secure mobile communications devices, remote sensors, security cameras, and portable medical devices. It supports low-power states such as...
Read More »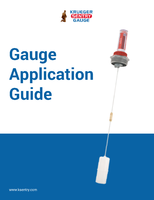 This white paper provides a gauge application guide to help you in selecting the right gauge for your needs.
Read More »
What: Xilinx demonstrates complete programmable solutions designed specifically to enable the industry's latest consumer and automotive innovations Where: Las Vegas Convention Center, Las Vegas, South Hall #35768 When: January 7-10, 2008 Exhibits: Monday, January 7 10 a.m.-6 p.m. PST Tuesday, January 8 9 a.m.-6 p.m. PST Wednesday, January 9 9 a.m.-6 p.m. PST Thursday, January 10 9 a.m.-6 p.m. PST...
Read More »
Based on Cyclone FPGAs, Universal Submodule concept is available in P699 XMC and P598 conduction-cooled PMC models. Model P699 uses Cyclone III FPGA with 24,624 logic elements and 4 MB Flash memory, while Model P598 features Cyclone II with 33,216 logic elements and 2 MB flash. Nios soft core processor, which features 32 MB of DDR2 SDRAM main memory, is implemented on FPGA. Different IP cores...
Read More »
Featuring 1.4 million system gates and 502 I/Os, XA Spartan(TM)-3A FPGAs are compliant with 26 single-ended and differential signaling standards, and support CAN, MOST®, and FlexRay networking standards. Delivering over 30 GMACS and 2,200 Gbps memory bandwidth, XA Spartan-3A DSP FPGAs enable designers to implement many independent arithmetic functions. Units provide up to 53,712 logic...
Read More »
Optimized for use in applications such as digital displays, set top boxes, and wireless routers, 90 nm Spartan(TM)-3A FPGAs feature dual power management modes, eliminating need for external components. Suspend mode cuts quiescent current to minimum state while retaining all information within FPGA. It offers system level synchronization with awake pin to indicate status, and programmable timers...
Read More »
Suited for designers of power-conscious systems, 350 MHz ProASIC3L Series supports 1.2 V core voltage and Flash*Freeze technology, which enables designers to switch device from dynamic operation to static without switching off clocks or power supplies. Comprised of 4 models ranging from 250,000 to 3 million gates, ProASIC3L Series comes in both commercial and industrial temperature grades with...
Read More »
New DeviceDNA Checker IP provides robust security solution for Spartan-3 Generation FPGAs LAS VEGAS, Jan. 7 -- At the Consumer Electronics Show (CES) today, Xilinx, Inc. (NASDAQ:XLNX), the world's leading provider of programmable solutions, announced that it has teamed with data encryption IP specialist Helion Technology to enhance the security features in the Xilinx(R) Spartan(TM)-3 generation...
Read More »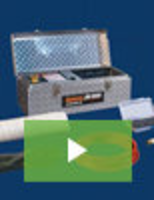 The lightweight, compact JM-1000 Mini-Jet clears grease, sand, and ice with a high pressure water jet.
Read More »