New industrial networking, machine vision and motor control platforms short-cut design and integration of hardware, software and IP for high-performance system-on-chip designs NUREMBERG, Germany - SPS/IPC/DRIVES 2010 -- Xilinx, Inc. (Nasdaq: XLNX) today announced at SPS/IPC/DRIVES 2010 three new industrial Targeted Design Platforms based on the low-cost Spartan®-6 FPGA family, which will help...
Read More »
Up To Sixteen 28Gbps Serial Transceivers in New FPGA for Industry's Highest Bandwidth Line Cards Supporting Major High-Speed Serial, Optical and Backplane Protocols SAN JOSE, Calif. - Xilinx, Inc., (Nasdaq: XLNX) today announced its Virtex®-7 HT FPGAs with demonstrated 28Gbps serial transceiver performance required for next generation 100-400Gbps applications. The 28nm FPGAs enable...
Read More »
AssuredSAN 3320 (2.5 in. drives) and AssuredSAN 3330 (3.5 in. drives) storage arrays feature 4 ports of iSCSI over GbE in each integrated controller. Available in dual or single RAID controller configuration, units provide data access for virtual server environments. They include data-in-place migration, allowing users to install any of 3000 Series controllers into existing Dot Hill array....
Read More »
Virtex®-6 HXT FPGAs support 40 and 100 Gbps line cards with flexible port configurations including 1x40, 4x10, 1x100, and 10x10 Gbps. They interface to SFP+, XFP, and CFP optical modules at line rates up to 11.18 Gbps and offer low jitter performance, eliminating need for external conditioning circuitry. Featuring 6.6 Gbps GTX transceivers and 11.18 Gbps GTH transceivers, units also have...
Read More »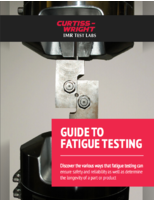 Learn what fatigue testing is and how fatigue testing service providers can determine the longevity of a part or product.
Read More »
Spartan-6Q Family Delivers Most Secure FPGA Solution for Low-Power Applications as Virtex-6Q Family Targets High-performance, Computationally Intensive Designs SAN JOSE, Calif. - Xilinx, Inc., (Nasdaq: XLNX) today announced the Spartan®-6Q family and Virtex®-6Q family, its newest generation of field programmable gate arrays (FPGAs) qualified for meeting the rigorous requirements of the...
Read More »
Enables 100x Improvement in Die-to-Die Bandwidth Per Watt and 2-3x Capacity Advantage Over Monolithic Devices TAIPEI, Taiwan, -- Xilinx, Inc. (Nasdaq: XLNX) today announced the industry's first stacked silicon interconnect technology for delivering breakthrough capacity, bandwidth and power savings using multiple FPGA die in a single package for applications that require high-transistor and logic...
Read More »
Altera Expands Industrial Networking Partner Program to Include IP and Terasic's Industrial Networking Kit Featuring Altera's Cyclone IV E FPGA SAN JOSE, Calif., Oct. 18 - Reducing development time for industrial networking designers, Altera Corporation (Nasdaq: ALTR) today announced the expansion of its Industrial Networking Partner Program (INPP) with a new Industrial Networking Kit (INK) from...
Read More »
Single FPGA Design Flow will Support Range of Embedded Processor Offerings Based on ARM, Intel, MIPS® Architectures SAN JOSE, Calif., -- To accelerate the integration of programmable logic and processors in embedded systems, Altera Corporation (Nasdaq: ALTR) today announced its Embedded Initiative. With this initiative, Altera is providing designers a single FPGA design flow based on its...
Read More »
Combining configurable Xilinx Virtex-5 FPGA with high-speed memory buffers and PCIe bus 4-lane interface, Model XMC-VLX is capable of executing custom instruction sets and algorithms. Field I/O interfaces to FPGA via rear J4/P4 connector and/or with optional front mezzanine plug-in I/O modules. Up to 64 I/O lines are accessible through J4 connector. Available in 3 versions, module offers choice...
Read More »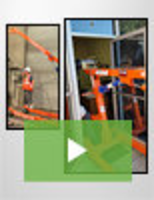 EZRig Cranes offers lifting solutions that are engineered for robust performance, providing the ultimate in portability. Designed for real-world lifting needs, our products are small and light with options and features that make them ideal for a broad range of applications. See our video to learn how an EZRig Crane can simplify your lifting requirements.
Read More »