Water-Soluble Solder Paste minimizes voids.
Press Release Summary: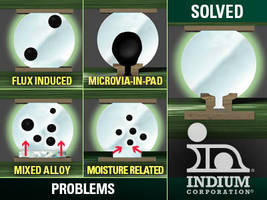 Manufactured with standard type 3 powder in Sn63, Sn62, and Indalloy100, Indium6.4 minimizes voiding under QFN and BGA assemblies. Whereas typical water-soluble paste has approximately 15–30% voiding, Indium 6.4 consistently yields less than 5%. Additional features include optimized response-to-pause printing, cleanability, and reflow properties as well as extended stencil life and slump resistance.
---
Original Press Release:

Indium Corporation Announces Void-Reducing Water-Soluble Solder Paste



Indium6.4 Water-Soluble Solder Paste's flux chemistry minimizes voiding under QFN and BGA assemblies. A typical water-soluble solder paste has approximately 15-30 percent voiding; however, Indium6.4 consistently yields less than five percent.



Indium6.4 provides:

1. Fewer voids

2. Smaller voids

3. Good cleanability and reflow properties

4. Exceptional response-to-pause printing

5. Extended stencil life

6. Exceptional slump resistance



Indium6.4 is manufactured with standard type 3 powder in Sn63, Sn62, and Indalloy100 (tin, lead, and silver). It joins Indium6.3 as one of Indium Corporation's top-performing water-soluble solder pastes.



For more information on Indium6.4 and our other Indium Corporation solder pastes, visit www.indium.com/Indium6.4.



Indium Corporation is a premier materials manufacturer and supplier to the global electronics, semiconductor, solar, thin-film, and thermal management markets. Products include solders, preforms, and fluxes; brazes; sputtering targets; indium, gallium, and germanium metals and inorganic compounds; and NanoFoil®. Founded in 1934, Indium has global technical support and factories located in China, Singapore, South Korea, the United Kingdom, and the USA.



For more information about Indium Corporation visit www.indium.com or email abrown@indium.com.



Contact:

Anita Brown

Corporate Communications

Indium Corporation

abrown@indium.com

tel: +1.315.381.7524

34 Robinson Road

Clinton, NY  13323 USA

www.indium.com

 

More from Materials