Water-Soluble Solder Paste is lead-free.
Press Release Summary: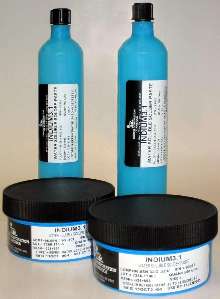 Suited for fine-pitch applications, Indium3.1 exhibits beneficial wetting under air and nitrogen reflow atmosphere. Low-voiding, low-foaming product exhibits slump resistance and results in shiny and smooth solder joints. Stencil life virtually eliminates solder paste waste, and any residue is cleaned with water. Product comes in 500 g jars and 700 g cartridges.
---
Original Press Release:

Indium Corporation Introduces Water-Soluble Pb-Free Solder Paste


To meet the high demand of water-soluble solder paste users who need to comply with the Pb-Free requirements, Indium Corporation of America has developed the next generation of Pb-Free Solder Paste, Indium3.1. Indium3.1 is a water-soluble Pb-free solder paste with exceptional printing, ideal for fine-pitch applications. The unprecedented stencil life virtually eliminates solder paste waste.

In addition, Indium3.1 exhibits excellent wetting under both air and nitrogen reflow atmosphere. Any residue is easily cleaned with water. The resultant solder joints are shiny and smooth, including those of ultra fine-pitch components.

Indium3.1 also features a wide reflow window, outstanding slump resistance, low voiding and low foaming. Standard packaging for stencil printing applications is 500g jars and 700g cartridges. In addition, Indium3.1 is backed up by Indium Corporation's internationally experienced engineers who provide in-depth technical assistance and expert advice in solder properties.

Indium Corporation is a three-time Frost & Sullivan Award-winning supplier of electronics assembly materials, including solder pastes, solder preforms, fluxes, Pb-Free solder alloys, underfill materials, die-attach materials, and more. The company is also the world's premiere supplier of commercial grade and high-purity indium. Factories are located in North America, Europe, and Asia. Founded in 1934, the company is ISO 9001 registered.

For more information on Indium3.1, visit Indium Corporation of America at www.indium.com or email askus@indium.com.

More from Materials