Wafer X-Ray Metrology System offers high-throughput automation.
Press Release Summary: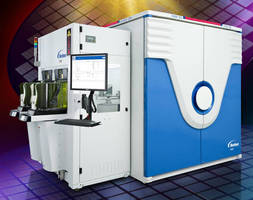 Able to be used as integral part of fabrication and packaging of integrated circuits or as part of QC and product acceptance, XM8000 provides automated, high-throughput X-ray metrology and defect review system for both optically hidden and visible features of TSVs, 2.5D and 3D IC packages, MEMS, and wafer bumps. Non-destructive, in-line wafer measurement covers voiding and fill levels, overlay, critical dimensions, and more.
---
Original Press Release:

Nordson DAGE Launches the XM8000 Wafer X-Ray Metrology Platform



Unprecedented levels of precision, detection and throughput for fully automated wafer measurement of TSVs, 3D packages and wafer bumps



Aylesbury, Buckinghamshire, UK — Nordson DAGE, a division of Nordson Corporation (NASDAQ: NDSN), announces the launch of its XM8000 Wafer X-ray Metrology Platform at the SEMI European 3D TSV Summit taking place in Grenoble, France 20-22 January 2014.



This new platform takes the market-leading capabilities from Nordson DAGE's existing X-ray systems to provide an automated, high-throughput X-ray metrology and defect review system for both optically hidden and visible features of TSVs, 2.5D and 3D IC packages, MEMS and wafer bumps.  The XM8000 provides unprecedented, non-destructive, in-line wafer measurement of voiding and fill levels, overlay, critical dimensions and much more.  In this way the XM8000 can be used as an integral part of the fabrication and packaging of integrated circuits or as part of quality control and product acceptance.



Dr David Bernard, Business Manager Automated X-ray Systems commented, "This is an exciting launch of a major new X-ray platform for Nordson DAGE.  We are taking the expertise and innovation that we have developed over many years serving the X-ray needs of electronics manufacture and now we can extend this to the necessary X-ray metrology for the ever smaller features that are used in today's electronics such as TSVs and smaller wafer bumps."



The XM8000 X-ray platform measures the invisible – fast – so our customers have no hidden surprises.



More information can be found at www.nordsondage.com or www.measuringtheinvisible.com



About Nordson DAGE

Headquartered in Aylesbury, UK, Nordson DAGE is a unit of the Nordson Corporation and manufactures and supports a complete range of award winning digital X-ray inspection systems and bond test equipment for the printed circuit board assembly and semiconductor industries.  For more information, visit www.nordsondage.com.



About Nordson Corporation

Nordson Corporation engineers, manufactures and markets differentiated products and systems used for the precision dispensing and processing of adhesives, coatings, polymers and plastics, sealants, biomaterials and other materials and for fluid management, test and inspection, UV curing and plasma surface treatment, all supported by application expertise and direct global sales and service.  Nordson serves a wide variety of consumer non-durable, durable and technology end markets including packaging, nonwovens, electronics, medical, appliances, energy, transportation, construction, and general product assembly and finishing.  Founded in 1954 and headquartered in Westlake, Ohio, the company has operations and support offices in more than 30 countries.  Visit Nordson on the web at www.nordson.com, www.twitter.com/Nordson_Corp  or www.facebook.com/nordson