Vishay Intertechnology's SiZ710DT 20 V N-Channel PowerPAIR® Power MOSFET Honored With 2012 China ACE Award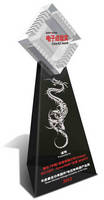 MALVERN, Pa. - Vishay Intertechnology, Inc. (NYSE:VSH) today announced that the company's SiZ710DT 20 V n-channel PowerPAIR® power MOSFET has received a 2012 China Annual Creativity in Electronics (ACE) Award in the category of Power Devices/Voltage Converter.

The China ACE Power Devices/Voltage Converter Product of the Year Award recognizes solutions that offer significant design and technical benefits, provide engineers with new and compelling capabilities, and deliver significant resource savings, including time, cost, and space. Additionally, this award recognizes products that are likely to have a significant impact in mainland China.

For system power, POL, low-current DC/DC, and synchronous buck applications in notebooks, VRMs, power modules, graphic cards, servers, and gaming consoles, the SiZ710DT is the first asymmetric dual TrenchFET® power MOSFET in the PowerPAIR 6 mm by 3.7 mm package to utilize TrenchFET Gen III technology. The device reduces on-resistance by 43 % when compared to previous-generation MOSFETs, while offering higher maximum current and enabling increased efficiency.

With the industry's lowest on-resistance for this device type, the SiZ710DT combines a low- and high-side MOSFET in one compact device, saving space over two discrete solutions in DC/DC converters. The low-side Channel 2 MOSFET utilizes the optimized space from the asymmetric structure and offers an on-resistance of 3.3 mW at 10 V and 4.3 mW at 4.5 V, while the high-side Channel 1 MOSFET features an on-resistance of 6.8 mW at 10 V and 9.0 mW at 4.5 V.

Eric Lo, Vishay's China and Hong Kong senior sales director, claimed the award on Vishay's behalf during a reception held in conjunction with IIC-China 2012 in Shenzhen (Feb. 23-25).

Follow Vishay PowerPAIR power MOSFETs at twitter.com/vishayindust.

Vishay Intertechnology, Inc., a Fortune 1,000 Company listed on the NYSE (VSH), is one of the world's largest manufacturers of discrete semiconductors (diodes, MOSFETs, and infrared optoelectronics) and passive electronic components (resistors, inductors, and capacitors). These components are used in virtually all types of electronic devices and equipment, in the industrial, computing, automotive, consumer, telecommunications, military, aerospace, power supplies, and medical markets. Vishay's product innovations, successful acquisition strategy, and "one-stop shop" service have made it a global industry leader. Vishay can be found on the Internet at www.vishay.com.

PowerPAIR and TrenchFET are registered trademarks of Siliconix incorporated.


More from Packaging Products & Equipment