USB-Powered Scope/Data Logger provides 15 I/O channels.
Press Release Summary: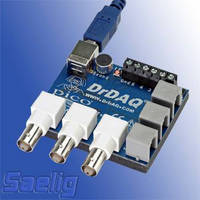 Combining scope, data logger, and I/O board, USB DrDAQ samples at 1 MS/s and can be used as single-channel 8-bit 100 kHz oscilloscope or spectrum analyzer with ability to measure voltages up to ±10 V. Unit features microphone, light sensor, RGB LED, and oscilloscope and resistance inputs, as well as 4 digital I/O ports, 3 sensor ports, pH/redox sensor input, and signal generator output. Supplied with Windows SDK, system is suited for applications ranging from education to research.
---
Original Press Release:

Saelig Debuts New Educational Scope/Logger



Pittsford, NY, USA: Saelig Company, Inc. (Saelig) (www.saelig.com) has introduced the USB DrDAQ - a combination scope/data-logger/IO board that offers an amazing collection of 15 I/O channels in a compact, low-cost device designed for hobbyists, teachers and technicians. Software provided with the unit provides an easy-to-use 100kHz-bandwidth oscilloscope and datalogger, with extra input and output capabilities straight out of the box.

Built into the USB DrDAQ are a microphone, light sensor, RGB LED, oscilloscope and resistance inputs, 4 digital I/O ports, 3 sensor ports, a pH/redox sensor input and a signal generator output. The unit is powered from the USB port so there is no need for an external power supply. USB DrDAQ samples at 1MSa/s and can be used as a single-channel 8-bit 100kHz oscilloscope or spectrum analyzer with the ability to measure voltages up to ±10 volts.

USB DrDAQ's 10-bit D/A output features a 10-bit signal generator - a standard function generator, but also an arbitrary waveform generator (AWG), so customized waveforms can be created. An RGB LED can be used to display any color for a variety of indicator purposes. Two of the I/O ports can be used as pulse counting inputs, or PWM (pulse-width modulation) outputs. The sensor ports can be used with a range of temperature, humidity and oxygen sensors, or with custom sensors built by the user.

USB DrDAQ will find its way into a wide variety of applications from education to research for signals at audio frequencies and beyond. It is supplied with a free Windows Software Development Kit (SDK) with fully documented function calls to control all aspects of the device, so it can even be integrated into other programs in C, C++, Microsoft Excel and National Instruments LabVIEW.

USB DrDAQ is available now from Saelig, with prices starting at $159.85 USD or as a kit with 4 sensors and scope probe for $359.95. For detailed specifications, free technical assistance, or additional information, please contact 1-888-7SAELIG, via email: info@saelig.com, or visit www.saelig.com

About Saelig Company, Inc.

Founded in 1988 in Rochester, New York, Saelig is a North American distributor with a growing reputation for finding and sourcing unique, easy-to-use control and instrumentation products and related active components, for use in a variety of industries. Products lines are continuously added from sources across the globe, and are offered at highly competitive prices, accompanied by full in-house technical support, exceptional customer service, and fast delivery. For full details of available product lines, please visit www.saelig.com.

Contact Information

email: info@saelig.com

phone / fax: 585-385-1750 / 585-385-1768

web: www.saelig.com

More from Electronic Components & Devices