UltraFlex Using Induction Heaters to Preheat Carbon Steel Threaded Rods to 148°C (300°F) within 17 Seconds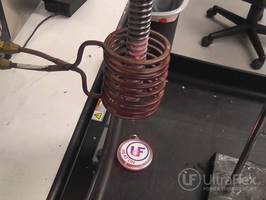 [Dec 3rd, 2018] A new demo by UltraFlex Power Technologies - a leading provider of digitally controlled induction heaters - showed how carbon steel threaded rods of different size could be heated to 148°C (300°F) within 17 seconds. The demo showed that performance requirements in manufacturing could be easily met by using induction heating solutions, without affecting the quality of the heating process.
Two carbon steel threaded rods had been used in the demo - one being 19" (482.6mm) long, with 0.975" (24.7mm) outside diameter and 3.5" (88.9mm) heat length, and the other being 12" (304.8mm) long, with 1.2" (30.48mm) outside diameter and having 2.5" (63.5mm) heat length. Both rods had 148°C (300°F) tempilaq applied over their heat length, for temperature measuring purposes.
To achieve the specific time and target temperature requirements for both rods, different power of 1.70 kW (for the longer but thinner rod) and 1.93 kW was applied to them, using UltraFlex proprietary low-power induction heater from the UltraHeat S series. The induction heaters from the S series are compact and economical 2kW induction heating systems, capable of delivering up to 2 kW of power within a 30-400 kHz frequency range.
The Tempilaq showed that the target temperature of 300 F was achieved within the required 17 seconds, over the full heat length of both rods. The heating process was quick and easy to complete, and quality was not affected by the time restrictions. If used for manufacturing purposes, this induction heating process would not require specific operator training, would save time, energy and costs.
Find out more at:
Contact us at:
+1.631.467.6814
uptnews@ultraflexpower.com
About UltraFlex Power Technologies:
UltraFlex Power Technologies (ultraflexpower.com) offers the most advanced and innovative digitally controlled induction heaters in the industry. Its compact modular and flexible systems are suitable for a wide variety of induction heating, casting and melting applications.
Related