TiltSCOUT Wireless Inclinometer features built-in three-axis sensor.
Press Release Summary: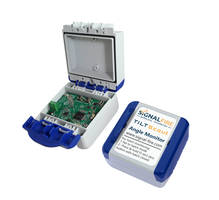 TiltSCOUT Wireless Inclinometer is designed for tank hatch detection and pump jack motion monitoring. Unit detects change in angle of the pump jack when it is operated in pump jack mode. Product is housed in NEMA4X enclosure. TiltSCOUT transfers report information to central gateway which can be connected to control center and the sensor comes with 900 mHz radio and antenna with data transmissions up to 1/2 mile.
---
Original Press Release:
SignalFire Introduces Multi-Purpose Wireless Inclinometer for Tank Hatch and Pump Jack Monitoring for Oil and Gas Industry
SignalFire Wireless Telemetry introduces the TiltSCOUT, a new, patent-pending, intrinsically safe wireless inclinometer for tank hatch detection and pump jack motion monitoring. The innovative device helps mitigate environmental and safety risks associated with accidental emissions from tanks by monitoring and reporting the status (opened, partially opened, closed) of the tank's hatch. The built-in, three-axis sensor continually monitors the hatch and wirelessly transmits status if the tank hatch is moved. This feedback can help operators avoid or minimize environmental and unsafe gas emissions from a tank.
When operating in a pump jack mode, the TiltSCOUT detects the change in angle (movement) of the pump jack walking beam to verify operation and report on/off events so operators can quickly resolve issues if pumping unexpectedly stops.
This latest wireless node from SignalFire reports information to a central gateway that can be connected to a control center for remote monitoring. Modbus or digital alarming is available at the gateway. This maintenance-free, non-contacting sensor incorporates a 900mHz radio and antenna for long-range data transmissions (up to ½ mile), and an internal battery pack that supports offers long-term operation of five years.
According to Sandro Esposito, SignalFire Director of Marketing "We strive for easy-to-use, cost- effective and reliable wireless measurement - a recipe packaged in our latest C1D1 wireless sensor."
Featuring a small footprint and simple design, the angle sensor is easy to install. Operators simply mount the TiltSCOUT on the Pump Jack (a magnetic base can be used) or tank hatch (bracket) without wires associated with a traditional wired system. With a NEMA4X enclosure for outdoor environments, the unit is Class 1 Division 1 certified for use in hazardous locations.
For more information on the TiltSCOUT, refer to the SignalFire website or contact support@signal-fire.com.
About SignalFire Wireless Telemetry
SignalFire Wireless Telemetry designs and manufactures wireless telemetry products that enable robust, long-distance wireless communication connecting multiple devices in challenging outdoor environments. In 2015, the company became a part of the TASI Group and the TASI Flow Division. SignalFire joins the TASI Flow family, a global leader in flow instrumentation, with brands including TRICOR Coriolis, AW Gear Meters, KEM Küppers, LitreMeter, and Vögtlin Thermal Mass Flow Meters and Controllers. For more information about SignalFire, visit http://www.signal-fire.com/.
About the TASI Group
The TASI Group of Companies is comprised of three technologically advanced product platforms commonly linked by a disciplined focus on Test, Measurement, and Assembly. Each TASI company delivers products and services to today's world manufacturing environments, focusing on Automotive, Medical Devices, Oil and Gas, Plastic Containers, Consumer and General Industrial markets. For more information about the TASI Group, visit their Web site at www.tasigroup.com.
More from Explosives, Armaments, and Weaponry