Three-Axis CNC Mill is offered with load meter accessory.
Press Release Summary: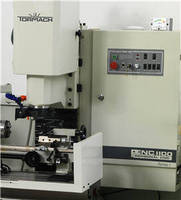 Model PCNC 1100 mill is available with PN 31101 Load Meter, which will display real-time spindle load to enable operator to visually monitor cutting performance. Specifically, meter can be used to monitor tool wear as well as troubleshoot both programming and drive performance. Ability to monitor spindle load lets operators and programmers tune speed, feed, cut depth, and other factors, optimizing mill performance while minimizing tool wear and controlling spindle load.
---
Original Press Release:

Tormach Introduces New Load Meter for PCNC 1100 Mills



Load meter helps monitor tool wear, troubleshoot programming and performance

Waunakee, WI, March 10, 2009 - Tormach, LLC, creator of the PCNC 1100, the affordable and versatile 3-Axis personal CNC mill, has added another accessory to enhance performance and ease-of-operation. The new Load Meter (PN 31101) will display real-time spindle load, enabling an operator to visually monitor cutting performance in real-time.

According to Tormach CEO Greg Jackson, the new load meter can be used to monitor tool wear and troubleshoot both programming and drive performance. "Everything else being equal, increasing spindle load can be a sign that a tool needs to be sharpened or replaced," he notes. "The ability to monitor spindle load will also allow operators and programmers to tune speed, feed, cut depth and other factors to maximize mill performance while minimizing tool wear and controlling spindle load." Jackson noted that this can lead to significant reductions of both tool costs and mill down-time and repairs.

The Load Meter consists of a compact plug-in housing with a needle dial that shows spindle load as a real-time display, plus LEDs that light if the spindle is rotating or has faulted. The meter connects to either the PCNC 1100 Series II mills or any pre-Series II machines with the spindle upgrade package installed. The spindle upgrade kit is PN 31090.

About Tormach

The people at Tormach are dedicated to delivering tools, accessories, and components of unprecedented value in the world of CNC and motion control. Whether you are involved in R&D, education, short-run production, or simply entrepreneurs with new ideas, Tormach products allow you to make what you need easier, quicker, and more affordable.

Tormach is headquartered in Waunakee, Wisconsin. For more information about 'personal CNC' mills and accessories, please visit www.tormach.com or contact Tormach directly at info@tormach.com

For more information, visit http://tormach.com/document_library/DS31101_Load_Meter.pdf

More from Laboratory and Research Supplies and Equipment