Thermoelectric Controller delivers main and auxiliary power.
Press Release Summary: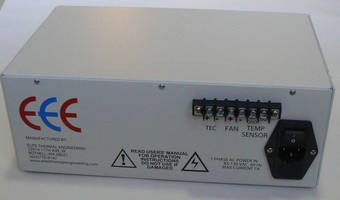 Offering up to 600 W of power output to drive thermoelectric (TEC) cold plates and up to 40 W auxiliary power for fans or pumps, configurable model MC-1000 can also be used as heater controller. Setup only requires user to wire TEC, fan, and temperature sensor to terminal block on back of unit; plug in provided power cord; and flip switch. Front panel features one knob for adjusting set temperature and LCD that shows set and actual temperatures.
---
Original Press Release:

ETE Introduces Compact High Power Thermoelectric Controller with Auxiliary Power



Elite Thermal Engineering, a leading supplier for engineering thermal solutions, released model MC-1000, a versatile compact high power TEC (thermoelectric cooler) controller that is configurable to drive all ETE's thermoelectric cold plates with up to 600 watts of power output, plus auxiliary power for fans or pumps up to 40watts. ETE's high power high performance thermoelectric cold plates are primarily designed for high power laser cooling, medical devices, and electronics cooling.

MC-1000 is the simplest thermoelectric controller. All user needs to do is to wire the TEC, fan and temperature sensor to the terminal block on the back of the unit, plug the provided power cord, flip the switch. There is one knob in the front panel for adjusting the set temperature; a LCD display on the front panel displays the set temperature and the actual temperature. No need for computer, or programming or long menu to read.

MC-1000 can be factory configured for many power output mixes with power outputs from 10s of watts to 600w, voltage from 12 to 48VDC, current up to 12A. MC-1000 also provides auxiliary power up to 40 watts for fans, pumps that maybe used in conjunction with ETE's cold plates. The power input is standard 85-120VAC, but can be factory configured for 220VAC applications. MC-1000 can also be used as heater controller.

MC-1000 is designed to work with a digital temperature sensor. ETE ships MC-1000 with a sensor as accessory. Digital temperature sensor is immune to EMC noise and may be placed as far as 20 meters away from the controller.

ETE is a proud supplier of thermoelectric modules, thermoelectric cold plates from low power 50 w to high power up to 300 watts, butterfly laser mount adaptor connection boards, thermoelectric based air to air heat exchangers, and water cooling plates. ETE also provide thermal mechanical design services to broad customer base ranging from aerospace, medical and industrial applications.

Please visit products.elitethermalengineering.com for details, or email to contact@elitethermalengineering.com, or call ETE at 425-770-8147 for more information.

Related