Techcon Announces New Products at productronica Following New Brand Launch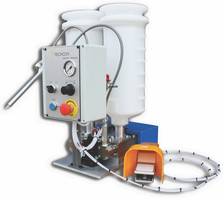 Cypress, CA - November 2017 - Techcon, a leader in precision fluid dispensing technologies, today announced plans to exhibit in Hall A2, Stand 135 at productronica 2017, scheduled to take place Nov. 14 – 17, 2017 at the Messe München in Germany. Following the company's new brand launch, company representatives will demonstrate several new products, including the TSM50BP Meter Mix, TS8100 series Positive Displacement Pump, TSR2000 Smart Dispensing Robot and TS560R Smart Spray Valve Controller.
The TSM50BP Meter Mix system is a cost-effective, entry level metering, mixing and dispensing machine. The system employs a parallel drive system with positive displacement pump technology to ensure repeatable, accurate volumetric metering, mixing and dispensing of low to medium viscosity two-part resin systems. Volumetric ratios are available from 1:1 and 4:1, and shot size range from 2cc to 50cc.
The TS8100 Series Positive Displacement Pump is designed to dispense a wide range of fluids, from low viscosity coatings to high viscosity greases. Typical applications include under filling PCBA components, encapsulation and potting applications, applying lubrication on automotive parts, and dispensing pastes and flux.
The TSR2000 Smart Dispensing Robot is designed specifically for precise fluid dispensing applications and is compatible with all valve types and controllers. The user-friendly, smart PC-based software makes the robot easy to program and simple to operate. The vision system allows the robot to automatically correct part misalignment and shorten programming time via pattern recognition feature.
The TS560R Smart Spray Valve Controller is capable of controlling all Techcon TS5520 Series and TS5540 Series spray valves. With a universal power supply, it is a fully 'plug and play' system and can be used immediately, anywhere in the world. First in its class, the TS560R is equipped with Internet port and Wifi connection to allow users to monitor and make precise parameter adjustments remotely.
To learn more about Techcon, visit www.techcon.com.
About Techcon
Since 1961, Techcon has provided precision fluid and adhesive dispensing equipment to a range of service industries, including industrial assembly, aerospace, military, material packaging, medical device and electronics. Techcon products are renowned for their superior accuracy and durability, yielding improved industrial hygiene and enhanced productivity. Our latest innovation is an automatic robotic dispensing system, designed to reduce human error and further increase precision, while providing IoT features such as uploadable instructional files and remote monitoring/troubleshooting. Backed by our expert engineering team, Techcon, an OK International company, is delivering smarter, cleaner, more durable solutions. www.techcon.com.
More from Fluid & Gas Flow Equipment