Surface-Mount HCSL Oscillators offer less than 1 psec jitter. .
Press Release Summary: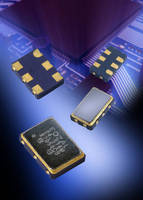 Available in frequency range of 40-200 MHz with 2.5 or 3.3 V supply, Series HCK5361 and HCK5761 offer 200 fsec integrated phase jitter performance with ultra-low phase noise of -138 dB/Hz at 10 kHz offset. HCK5361 models are housed in 5 x 3.2 x 1.2 mm 6-pad surface mount packages, while HCK5761 parts feature 7 x 5 x 1.8 mm housings. Both differential, high-speed current steering logic (HCSL) oscillators operate from -40 to +85°C with less than ±3 ppm/year aging at 25°C.
---
Original Press Release:

New Surface-mount HCSL Oscillators Targeting Volume Applications From Saelig



Pittsford, NY, USA: Saelig Company, Inc. (Saelig) (www.saelig.com) has introduced a new range of surface-mount high-speed current steering logic (HCSL) oscillators designed for volume applications. The new HCK5361 and HCK5761 differential HCSL oscillators are highly competitive and deliver higher frequencies compared with surface acoustic wave (SAW)-based oscillator designs. The new parts offer jitter performance of less than 1ps (12kHz to 20MHz), an operating temperature range of -40 to +85°C and provide low aging.

Available in a frequency range from 40MHz to 200MHz, and designed for 2.5V or 3.3V supply, these oscillators offer femtosecond integrated phase jitter performance (200fs typical) with an ultra-low phase noise of -138dB/Hz at 10kHz offset.

HCK5361 differential HCSL oscillators are housed in 5 x 3.2 x 1.2mm 6-pad surface mount packages, while HCK5761 parts are in 7 x 5 x 1.8mm housings. Ageing for both types is less than ±3ppm per year maximum at 25°C ambient temperature. The oscillators are RoHS 6/6 (2002-95/EC) and WEEE (2002/96/EC) compliant.

Made by European frequency product specialists Euroquartz, HCK series oscillators are available now from Saelig Co. Inc. For detailed specifications, free technical assistance, or additional information, please contact Saelig 1-888-7SAELIG, via email: info@saelig.com, or visit www.saelig.com.

About Saelig Company, Inc. Founded in 1988 in Rochester, New York, Saelig is a North American distributor with a growing reputation for finding and sourcing unique, easy-to-use control and instrumentation products and related active components, for use in a variety of industries, including: automation, automotive, aerospace & defense, computers, controls, embedded systems, medical & pharmaceutical manufacturing, motion control, R&D, wireless, etc. Products lines are continuously added from sources across the globe, and are offered at highly competitive prices, accompanied by full in-house technical support, exceptional customer service, and fast delivery. For full details of available product lines, please visit www.saelig.com.

About Euroquartz Ltd. Euroquartz is an independent European manufacturer and supplier of quartz crystals, oscillators, filters and frequency-related products to the electronics manufacturing industry worldwide. The company designs and manufactures a comprehensive range of frequency control components for a wide range of customers including major OEMs in a broad spectrum of applications including military and aerospace, communications, general electronics, computing, control systems and petrochemical among many others.