Supreme 3HT-80 Epoxy Adhesive can withstand thermal cycling.
Press Release Summary: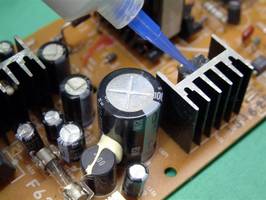 Supreme 3HT-80 Epoxy Adhesive is effective in adhering plastics to metals or rubber to metals. The product is cured at temperature 175-180°F in 45-50 minutes. Having low stress properties, product can withstand 1,000 hours of 85°C/85% RH testing and is suitable for electronic and opto-electronic applications.
---
Original Press Release:
Adhesive Flashback: Modification of Supreme 3HT Epoxy to Formulate Supreme 3HT-80
3HT-80 Master Bond Inc. is widely recognized for its commitment to new product development, including the modifications of existing formulations to meet application challenges.
Master Bond Supreme 3HT is a toughened single component epoxy adhesive, which requires curing at 250°F (minimum). It cures in 20-30 minutes at 250°F or 5-10 minutes at 300°F. It has proven highly effective in adhering similar/dissimilar substrates such as metals, ceramics, glass, rubbers and most plastics. It exhibits superior chemical resistance, outstanding physical strength, excellent electrical insulation characteristics, and is capable of withstanding thermal cycling. This 100% reactive, no mix compound has low shrinkage upon cure and is serviceable from -100°F to +350°F.
Our long-term customer was looking for a toughened adhesive with many of the performance properties of Supreme 3HT, but with a lower temperature cure, for bonding heat sensitive plastic substrates. In order to meet the needs of our customer, we adjusted Supreme 3HT to formulate Supreme 3HT-80, which cured at 175-180°F in 45-50 minutes. This was accomplished after a prolonged period of experimentation and testing. Reformulation was done in close cooperation and coordination with our customer, and this system met the exact physical, chemical, thermal and electrical performance requirements to satisfy their demanding specifications. Determination of the suitability of this composition also was dependent on its appearance and its ability to be automatically dispensed to best meet high production needs.
Successful Results
Since Supreme 3HT-80's introduction, this high peel/shear strength adhesive has been employed in a wide range of plastic to plastic bonding applications. Its low stress properties have made it advantageous for use in adhering dissimilar substrates such as plastics to metals or rubbers to metals. The utilization of different types of plastics in industrial products has contributed to an increase in its popularity. Its electrical insulation values, thermal cycling capabilities and proficiency of withstanding 1,000 hours of 85°C/85% RH testing make it well suited for electronic and opto-electronic applications.
For more information, request a technical data sheet on Supreme 3HT https://www.masterbond.com/tds/supreme-3ht and Supreme 3HT-80 https://www.masterbond.com/tds/supreme-3ht-80.
Contact:
Master Bond Inc.
154 Hobart Street
Hackensack, NJ 07601 USA
Phone: +1-201-343-8983
Fax: +1-201-343-2132
More from Adhesives & Sealants