Structural Bonding Epoxy has high-strength, one-part formula.
Press Release Summary: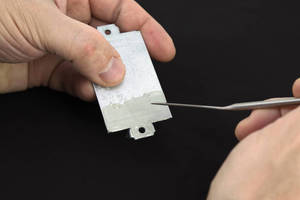 Suited for aerospace and specialty OEM industries, Master Bond® EP13SPND-2 offers respective tensile lap shear strength, compressive strength, and tensile modulus of over 3,000 psi, 18,000 psi, and 500,000–550,000 psi. Single-component nature aids handling and does not require mixing prior to use. Serviceable from -60 to +500°F, chemical-resistant and dimensionally stable epoxy has unlimited working life at room temperature, can serve as electrical insulator, and bonds to diverse substrates.
---
Original Press Release:

One Component, High Strength Epoxy for Structural Bonding Applications



Formulated primarily for high performance structural bonding applications, Master Bond EP13SPND-2 is a one part, high temperature resistant epoxy for the aerospace and specialty OEM industries. As a single component system, this product is easy to handle and does not require mixing prior to use. It also has an unlimited working life at room temperature. EP13SPND-2 has a paste consistency for non-drip application and it will not flow when curing.



Featuring an impressive strength profile, EP13SPND-2 offers a tensile lap shear strength, compressive strength and tensile modulus of over 3,000 psi, 18,000 psi and 500,000-550,000 psi, respectively. This dimensionally stable epoxy bonds well to many substrates including metals, glass, ceramics, composites, rubbers and most plastics. Typical cured bond line thickness is 0.002-0.008 inches.



EP13SPND-2 is a competent electrical insulator and features a volume resistivity exceeding 1014 ohm-cm. It resists a variety of chemicals such as fuels, oils, acids, bases and many solvents. This system is serviceable over the wide temperature range of -60°F to +500°F and is available for use in pints, quarts, gallons and 5 gallon containers.



Master Bond Structural Adhesives

Master Bond EP13SPND-2 is high temperature resistant epoxy with superior strength properties. This dimensionally stable, paste system has excellent electrical properties and chemical resistance. Read more about Master Bond's structural bonding adhesives at http://www.masterbond.com/applications/structural-adhesives or contact Tech Support. Phone: +1-201-343-8983 Fax: +1-201-343-2132 Email: technical@masterbond.com.



Note:

For a full product description, please visit: http://www.masterbond.com/tds/ep13spnd-2

Check out new videos on our YouTube channel: http://www.youtube.com/user/MasterBondVideo



You can embed any of our videos on your website.



CONTACT

James Brenner, Marketing Manager

Email: jbrenner@masterbond.com

Tel: +1-201-343-8983

Fax: +1-201-343-2132



MASTER BOND INC.

154 Hobart Street

Hackensack, NJ 07601-3922

Web: www.masterbond.com

More from Adhesives & Sealants