Servo Motor Controllers and Drives
Sinamics S210 Servo Drive System enables easier motion control for machine builders.
Press Release Summary: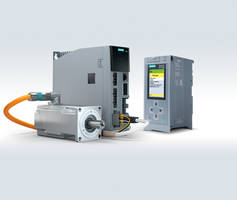 The Sinamics S210 Servo Drive System is offered in 50-750 watts and designed for use with Simotics S-1FK2 motors using a one cable connection. The Sinamics S210 features extended motion control and enables rapid engineering through motion technology in Simatic S7-1500 controllers.  Other features include one-button tuning and integrated safety functions. Applications include packaging, handling, wood and plastics processing, and digital printing.
---
Original Press Release:
Siemens Introduces New Servo Drive System Simplifying Motion Control for Machine Builders
Siemens offers a new servo package consisting of drive, motor and controller for a wide variety of motion control applications
With its Sinamics S210 converter designed specifically for use with the newly developed Simotics S-1FK2 motors, Siemens is offering a new and innovative servo drive system in an initial offering from 50–750 watts. The converters come with integrated safety functions and enable rapid engineering via motion technology objects in Simatic S7-1500 controllers. They are connected to higher-level controllers via Profinet and are quickly and easily programmed by automatic motor parameterization and one-button tuning. Typical uses for this new drive system include packaging machines, handling applications such as pick-and-place, wood and plastics processing, as well as life sciences and digital printing. 
"The Sinamics S210 focuses on highly-dynamic motor axis control, while the connected controller, for example the Simatic S7-1500 or S7-1500T with its extended motion control functionality, takes complete charge of positioning functions for the connected drive axes.", says Craig Nelson, product manager for Sinamics S-series drives.
The Sinamics S210 is commissioned using an integrated web server. One-button tuning functionality allows automatic optimization of control parameters, taking into consideration the behavior of the connected mechanics by different dynamic levels. 
Integrated safety functions include STO (Safe Torque Off) and SS1 (Safe Stop 1). Both can be actuated using Profisafe, STO additionally using a terminal. Additional functions are currently in the preparation stage. In conjunction with the rapid sampling and smart control algorithms of the Sinamics S210, a high-grade encoder system on the Simotics 1FK2 motor and the combination of low rotor inertia and high overload capability, allow the servomotors to achieve outstanding dynamic performance and precision.
Simotics 1FK2 motors are connected to the converters using a "One Cable Connection" (OCC), which includes the power conductors, encoder signal and brake — all grouped together in an exceptionally thin cable measuring just 9 millimeters in diameter. Its minimal cross-section makes the OCC cable thinner, lighter and more flexible than previous power cables, considerably simplifying the cabling process. This results in a single motor plug connector and connection at the converter is just as simple with user-friendly plugs with push-in terminals on the front.
More from Computer Hardware & Peripherals